The first major task I tackled this week with our patio project was this step landing. It was a problem that had to be fixed. When we had our home inspected before we purchased it the inspector noticed that the deck needed one more step to fit codes. That wasn't the only problem here, the stairs led right out to the septic drain access pipe. It was a bad spot for the builder to put it. Here's the solution I came up with: cover it all with a removable landing!
I built this 100% removable landing step to bridge the gap between our patio and the deck. The step covers the drain pipe but can be removed by two people easily and one person if needed. I used 2″x6″ pressure treated lumber to make a 46″x48″ box. I put another 2″x6″ board to serve as a brace to attach the tread boards and to give extra support. Then I attached 8″ stilts made from a 4″x4″ to each corner. Once I put it in place I screwed in the 1.25″x6″ tread boards to the frame.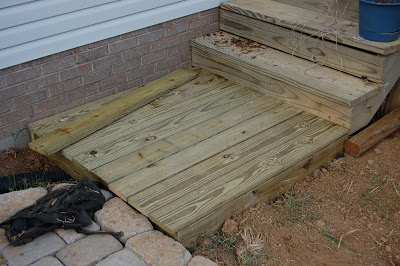 I have one more board to place but I have to cut it lengthwise to about 2.5 inches wide. I'll have to borrow my dad's table saw to do it but that should be easily accomplished this week. You can see in the picture below a drain pipe on the left of the landing. It will funnel the downspout from the roof away from the deck and patio out into the yard and toward the bird bath garden.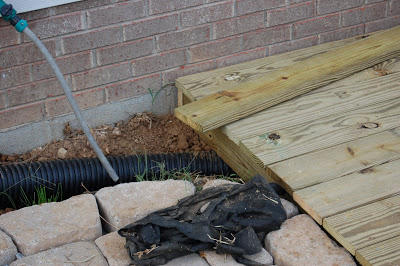 Here's a closer look at the step.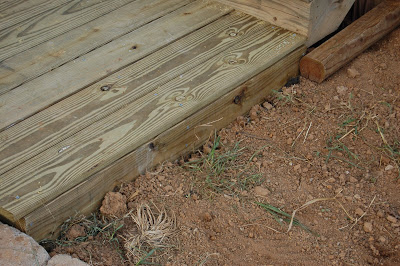 A view from the front.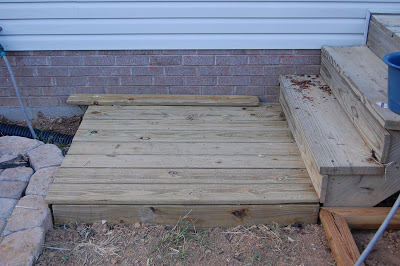 A view from the deck.