You can feel fall in the air here in Tennessee. It's in the wind and the air. The temperatures are cooler, the nights are coming sooner, and the shadows are longer. Fall is here. The days still are warm, in the 80's, but the nights are getting cold. My early mornings are not necessarily spent in the garden, anytime during the day is now comfortable. It's one of my favorite times of the year. I could do without the hot and humid days of August or the cold blustery breezes of February, but the fall is just great! Could there be a better time to be out in the garden?
The trees know it's fall as well. Many of the trees in our area have begun to change color prematurely due to the profound lack of rain. I suspect that the peak colors will be spotty this year, but hopefully better than last year.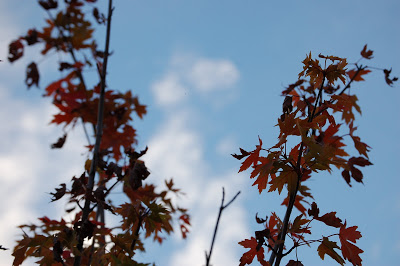 Here's a few pictures of a 'Red Sunset' Maple (Acer rubrum) that has already begun it's seasonal transformation into a flame colored fall wonder.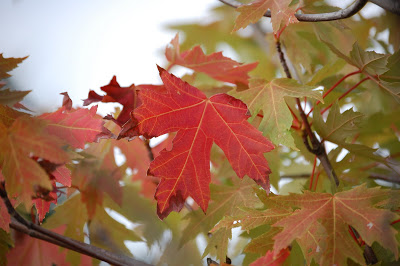 It's easy to see why the maple was named 'Red Sunset'. For fall color it's hard to beat a red maple. This particular one is in my in-laws yard but I recently added one to our garden. To me maples are the perfect tree for the home garden since they provide shade and great fall color. Not to mention the added feature of being bale to drop the seeds (samaras) from your grandfather's front porch to watch them helicopter down. At least that's what I did! Did I mention that they make great trees for climbing? Whatever the use in the landscape maples are a great choice!