Today is the last day of 2008 but unless you've never seen a calander you probably knew that already. As one year ends and new one begins. It's time for a short look back at 2008 and a glance into the future.
2008 was the first full growing year that we really had in the garden. Our first year in our home (2007) time and money was spent making it suitable for living. The money went into the hardwood floors, new carpets, painting, wainscoting and other miscellaneous projects and wasn't there for gardening in our first year. Needless to say 2008 was a better year for the garden!
My first project in 2008 was the rain garden. We had an area of our driveway the pooled a significant amount of water during a rain. It didn't matter whether it was a light rain or a heavy one standing water always remained on the driveway. The solution was the rain garden. I have more planting to do but it succeeded in eliminating the puddles on the driveway.
Before spring officially started growing in our garden I tackled my second project of the year, the raised bed garden. I made a vegetable garden layout that would be both functional and aesthetically pleasing. I put the lumber together and filled the beds with compost and soil and the garden did fantastic. I can't say enough how beneficial raised beds are for gardening! The tomatoes took off and produced into October. Unfortunately squash vine borers attacked our squash vines and our cucumbers fell to a bacterial wilt, but we had a ton of tomatoes! I fell short on my plans for the space around the garden. I was hoping to make a circular ring of perennials and annuals to decorate the vegetable garden space. I didn't get that done due to time (gardening and raising two little children don't always mix!) but maybe I can move that item of the to-do list to 2009.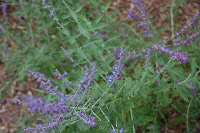 I propagated all kinds of plants including salvias, Russian sages, coneflowers, red twig dogwoods, Japanese dappled willows (very easy, it almost seems unfair to mention it as propagation), gaillardia, catmint, daylillies, liriope and many others. Some were by division but most were made from cuttings.
I moved a fair share of plants around. You see, I have this gardening syndrome that many other gardeners seem to have: The I-Can't-Decide-Exactly-Where-To-Plant-This-Plant Syndrome. It's OK since so much of gardening has to do with experimenting (trial and error). The aforementioned syndrome is often directly related to the I-Bought-This-Plant-Because-I-Like-It-But-I-Don't-Have-A-Place-For-It Syndrome.
I put together the corner shade garden and filled it with hostas, heucheras (a favorite of mine), coleus, astilbe, two heucherellas (related to heucheras), and an Oak Leaf Hydrangea. It did fairly well except for some of the hostas who experiemenced what must be the hosta's equivalent of a horror movie: Attack of the Slugs. Coming soon to a theater near you! (hopefully not)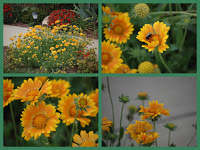 I added the front sidewalk garden and moved several Russian sages to it, a wise gardening move. The silvery green foliage and purple flowers looked great when in full bloom and they lasted all summer. Silver mound artemisia and a discount gaillardia were brought into the garden. The artemisia served as a border and softened the hard concrete walkway while the gaillardia added some long lasting color to one end of the sidewalk.
The patio project was started in 2008 and after many months eventually completed. A raised bed was built against the garage that I never talked about. I meant to mention it but wrote about other things instead and time has a way of letting you forget things. The patio itself was completed with a Japanese Maple Garden and a raised bed deck wrap around garden. These beds aren't completely filled yet with plants but I do not doubt that they will be soon enough.
The bird bath garden continued to expand growing from a copper birdbath and a couple plants to an area covering 12-15 feet by 6 feet. That's just an estimate and plans for its expansion are still in the works. This little area will become a peaceful area for contemplation next to our dear departed friend, Amber. We buried her near the bird bath in the garden, could there be a more appropriate place for our feline friend than by a birdbath?
Yesterday in the warm weather I began a new project for 2009 a self-seeding annual garden. I'll talk more about the self-seeding garden in greater detail soon.
I'm sure I left out a few things that were accomplished in the garden this year. Lots of new plants were added, some propagated, some discount, some swapped for and some just new. 2009 will bring new challenges, new plans, new plants, and a new to-do list. I'll show you the 2009 To-Do list tomorrow!