The signs of spring are coming up all over if you know where to look. In some cases like with the daffodils it's obvious. Bright yellow flowers and buds are beginning to stand up for us to take notice. Other plants, like sedums, are beginning to show elements of growth. On the left is an unnamed sedum that I believe is a Sedum sieboldii, but I can't be sure as it had no name tag. We bought it along with two 'Stoplight' tiarellas and two 'Ginkgo Craig' Hostas at the Bloom N' Garden Expo last year.
Below is a staple in almost everyone's garden, 'Autumn Joy' Sedum. It's such a carefree plant that it's easy to understand why it thrives in so many gardens. On the right is how it will appear when it is in bloom. Each year it gets larger with more blooms and stalks which means more opportunities for cuttings. Every 'Autumn Joy' sedum that we have came from a cutting.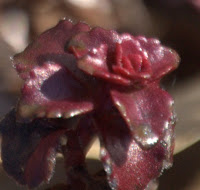 Even the Dragon's Blood Sedum's (Sedum spurium) foliage is brightening up for some stupendous spring time splendor. The burgundy color blends well with the 'Blue Spruce' Sedum that is growing in the same bed.
All of these sedums propagate easily.
Did I say easily?
I meant extremely easily! Sedums rank right up there with willow and coleus cuttings on the easiest plants to propagate list. Maybe I should make up an ease of propagating scale? Hmm…maybe later!