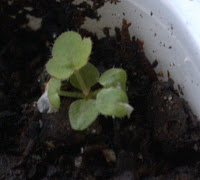 Yesterday I gave you a sneak peek at one of my favorite perennials that I decided to try and grow from seed this year, the heuchera! The seeds came from our corner shade garden which contains a small variety of heucheras like 'Palace Purple', 'Mocha', 'Melting Fire', 'Fireworks', and a heucherella named 'Stoplight.' Even in the winter they keep great foliage on display. Most heucheras are vegetatively propagated through division (which I'll be doing this spring) but some come true from seed like 'Palace Purple'. Truthfully I wouldn't mind seeing some unique variations in colors but what ever grows from our open pollinated heucheras will be fun to watch grow.
We have several other plants growing in our seed starting area. Here's a look at the progress they have made.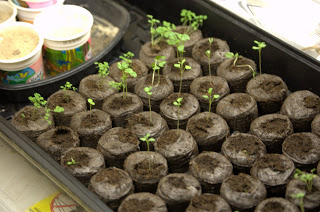 In this batch we have dianthus (in the back), some larkspur and some lavender. I really need to begin the transplant process for the dianthus soon, there are just too many in each peat pellet. Yes those are yogurt cups in the back, in my world everything that holds dirt can be a container! Besides, most of those yogurt cups can't be recycled so this is a good way to get another use out of them. I use them in the propagation of cuttings as well as for seed starting.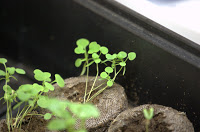 Here is a close-up on the dianthus. I haven't decided where to plant them in the garden yet although the self sowing garden is an option. I have dreams in my head of a green roof shed and dianthus would be perfect perennial for planting one. Regardless of where they eventually go the safe planting date is still several weeks away.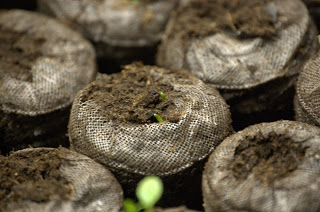 And here's another one I'm trying to get going from seed, a hosta! If you look closely at the center peat pellet you can see some green protruding from the seeds. There's no telling what the hosta seedlings might look like in the end. If they are solid colors that's fine, if they are variegated that's good too. It's just fun to experiment. I suspect they are a hybrid of some 'Patriots' and 'Gingko Craig's. That's just one reason why you should let your
hostas grow flowers
, aside from the beauty of the flowers you just might get bonus plants!
I'll have more updates in the future on these seeds. It's time to start a few more. Only 52 more days until the safe planting date!