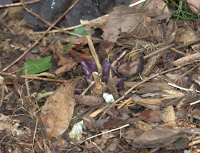 Spring time is always interesting for hostas. They emerge from the soil with tight leaf buds designed to drill their way up to the surface and finally open up to become the foliage plants we all know and love.
Our hostas are springing up all over our corner shade garden. Along with the heucheras, heucherellas, oak leaf hydrangea, and Soloman's seal they make this little corner into a garden based on foliage rather than flowers, but that's not to say that hostas don't have interesting flowers. I like to let the hostas run their own course and only cut down the flower stalks after they have formed seed. Growing hostas from seed is something of an experiment that I am still working to accomplish!
Hosta 'Antioch'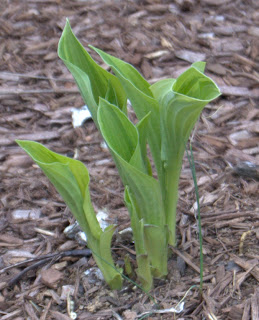 Last year I added a couple hostas from the shelves of the discount racks to our deck garden. It gets morning sun and afternoon shade because of the deck which is decent for hostas. Ideally they would receive dappled sun/mostly shade all day long, but like most gardeners I deal with what I have and try to improve upon it gradually (when time and funds permit!). Hopefully soon this bed will have the shelter of a river birch to create privacy on our deck and provide the right kind of shade for the hostas.
Leaf shapes vary quite a bit depending on the variety. These 'Patriot' hostas have a very common hosta leaf shape but are attractive because of their variegation.
Hosta 'Patriot'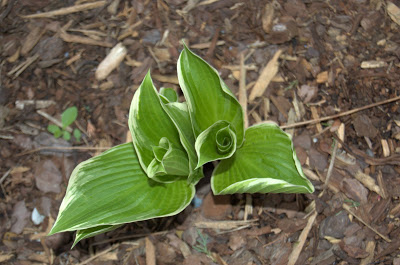 Hosta 'Ginkgo Craig'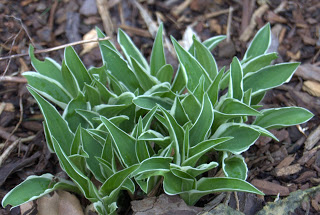 One of my favorite hostas is the 'Ginkgo Craig' which sports a very narrow leaf shape and has green and white variegated leaves. The white variegation appears around the edges. At some point I'll collect one of the larger blue leaved varieties to add some contrast to the hostas but for now the heucheras serve that purpose.
Also if you are thinking about dividing your hostas now is a good time!