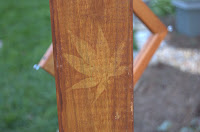 Along the posts of the arbor project we added a little decoration. Welcome to Japanese Maple Leaf Decor 101: How to Stain an Arbor!
First we put the initial coat of stain on the 4″x4″s then placed a leaf of a Japanese maple on the still slightly damp wood. Then we removed the leaf after a second coat of stain which left an imprint of the maple leaf. We only did this on the four main posts as it was very time intensive and we did have a time limit. This was our first attempt with this technique but I think it turned out pretty nice. We may go back later and add a similar decoration to other parts of the arbor. I think it works well with the Japanese maple that it happens to be situated beside!
Get ready for voting! It begins May 1st and you can vote once per day.
Previous Peeks of the Arbor Project!