It's time for another edition of Garden Blogger's Bloom Day brought to you by Carol of May Dreams Gardens! August is one of those times of the year before the fall flowers really start to get going where plants are kind of in transition but there are still many things in bloom. Today we'll step back a bit and look at larger areas blooming while taking an occasional closer look.
In the self-seeding garden next to the arbor there is a variety of plants blooming including zinnias, rudbeckia, sunflowers, guara, celosia, Verbena bonariensis, verbascum (I didn't plant it it just grew and I let it grow as a trap plant for the Japanese Beetles. They love the stuff for some reason.), and salvia. There are probably others that cannot be seen hiding behind the zinnias. I think I'll tone the zinnias back just a little next year.
From another angle we have 'Black and Blue' Salvia peeking into the photo and a butterfly bush. The butterfly bush was really popular at the garden club meeting last Saturday.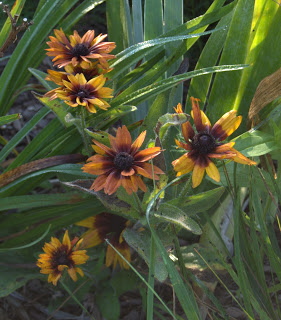 Here's a closer look at one of the rudbeckias. I think it's 'Cappuccino' but I'm not completely positive.
The goldenrod is blooming in the rain garden as well.
And now for some random bloomers around the gardens!
Rosemary
Thanks for visiting on Bloom Day!