Every fall it happens, mums (Chrysanthemums) galore appear in the box stores and nurseries. It's a tradition that rings in autumn like college football, corn mazes, and garden blogger fall color projects (OK maybe not the last one, at least not yet!). But what do you look for when you buy your mums in the store? A full bushy plant loaded with flowers or the newly budded beauty about to burst with blooms? And what do you do after autumn with your mums? Roadside trash can?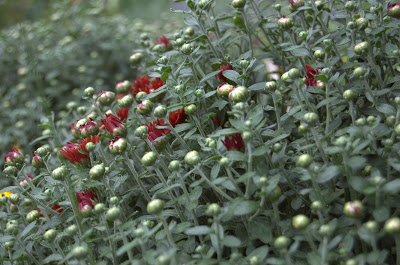 There are two schools of thought on the purchase of mums. The first school says to buy the mums while they are still in buds to maximize the bloom time in your garden. The second school is for those looking for an immediate impact in pots and other places. Those students who attend the second school look for bushy plants with blooms already open. I prefer the first school to the second but if you need to brighten up a church picnic then go for the mums already in bloom.
After your blooms have faded what now? Save the mums! Here in Tennessee our mild winters enable the mums to come back each year. The red mums in the picture above began blooming about a week ago but were originally planted in 2007. Keeping the mums is very simple. Don't cut the foliage back until new growth begins in the spring. Once new growth appears you can either let it go for a leggy and less traditional mum looking appearance or you can prune it back once in spring and once the first week of July for it to bloom in September. If you had your mums potted in pretty planters then you can transplant them somewhere into the garden to preserve them for next year. Mums left in pots probably won't make it since the outside air temperature will be much colder than the ground temperature during the winter.
Do me one favor, don't ever throw your mums in the trash can! After the blooms have faded mums seem to join all other forms of waste by the roadside for the garbage man to pick up. There is no reason for mums to end up in the landfill. If you don't want to save them for next year compost them or give them to friends who might want them. Adding unnecessary material to the landfills is a huge waste of space better served for other materials. Everyone should own a compost bin
even if they don't garden!
"Save the mums" doesn't sound quite like "save the whales" but to me saving money definitely sounds good! I haven't bought a mum this year or last since mine have returned faithfully each year.
And guess what? I did this whole post without the typical cliche mum phrases like "Mums the word!" Oops, I think I just messed that one up!