Though it is listed in the
invasive plants list for Tennessee
the very quality that makes
Miscanthis sinensis
so invasive makes it fun to have in the garden, the seeds! Ornamental grasses of all kinds add great fall color interest with their seed heads or tassels that wave in the wind. This particular variety is 'Zebrinus' or Zebra grass.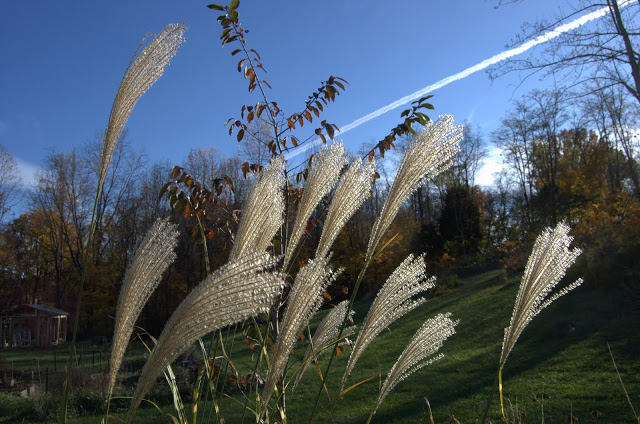 If you are looking for a nice substitute for miscanthus that is also a native try switch grass (
Panicum virgatum
). I've added two switchgrass varieties this year to the gardens:
'Shenandoah'
and 'Northwind'. Both of which are worthy plants in the landscape but are a little different in appearance than miscanthus. 'Shenandoah' has a nice reddish tint to its late summer and fall foliage with clouds of seeds. 'Northwind' is a strong upright plant with green foliage and airy seed heads. 'Shenandoah' is in our back garden near the greenhouse and 'Northwind' is near our
mailbox garden (May 2008
,
August 2009
).
Have you added any new grasses to your garden this year?