It's time for my end of the year garden project review. In the remote case you don't know what I mean I'll explain. This is where I go back and see what I actually accomplished from among the lofty project goals I established on January 1, 2009. I'll have a new set of projects for 2010 very soon but some will be a carry over from 2009.
Let's see how I did!
1. Prepare and plant the self-seeding garden. I'll have a specific post up for this idea later in the week but to sum up my plan I want to create a garden with easy to grow annuals, biennials, and perennials that will seed themselves year after year.
The self seeding garden was double dug, planted, and enjoyed throughout the summer. We'll have to see what comes up this year but the 2009 occupants included the following: Black and Blue Salvia, Zinnias, Verbena, Sunflowers, and many others. It was also enhanced by the arbor project.
2. Propagate plants, propagate plants, propagate plants…did I say propagate plants? (Especially more salvias and Russian sages!) I want to put more Russian sage (Perovskia atriplicifolia) in more places. It's deer tolerant (which is extremely important here), looks great, and thrives in full sun. I want more salvias for the same reasons.
This was a given, of course I would propagate plants! I added more salvias and Russian sage as I listed above but attempted anything I could get my hands on! (Beautyberry, Viburnum, Sedum (leaf cuttings), Asiatic Lily (leaf cuttings), 'Powis Castle' Artemisia and several more.)
3. Build an arbor as an entrance to the shady corridor. I accomplished this as a part of the Better Homes & Gardens 48 Hour Blog Challenge. You can see it here: An Entry Arbor , learn how I built it here:How to Build an Arbor, and vote for it here: 48 Hour Blog Challenge.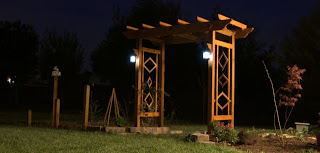 Even though I didn't win the $5000 in the project it was still very cool to put together the arbor. Better Homes & Gardens paid for the project and gave me a bonus $100 for completing it. The miter saw I bought with the $100 is coming in very handy for my greenhouse project!
4. Design and implement the shady corridor. On the eastern side of our house I am creating a shady area that will serve as a cool transition to the backyard. It gets morning sun now but a row of hemlocks and a small grove of other trees (redbud, crapapple, crape myrtle, and witch hazel) are planted at the edge of the property and will eventually provide shade for the garden passage.
The shady garden corridor is still a work in progress but the new entry arbor definitely sped it along. All I need to do is wait for the plants to grow. The crape myrtles I planted grew very well over our wet summer and should put on some nice growth in their second year.
5. Build a fence around the vegetable garden. A nice picket fence is just what our garden needs.
The garden fence hasn't been started yet. I came up with a couple designs and posted about it but I became sidetracked with building my greenhouse. The fence is something we really would like but we decided that getting the lawnmower in the shed portion of the greenhouse was more important than the fence. That way my wife can park in the garage!
6. Expand the vegetable garden. I need a little more space to grow more vegetables. I'll eventually add more raised beds to the garden and I need space for corn. Edit: I've put together a new raised bed vegetable garden layout that will organize the garden much better than what I had.
I expanded last year and changed from an "L" shaped raised bed vegetable garden layout to a more conventional design. I still have some more places to build raised beds in the garden and hopefully I'll tackle building some more raised beds very soon.
7. Lay the sidewalk brick that will connect our patio to another sidewalk. There is a short stretch of ground from our patio to the garage backdoor that I would like to cover with a walkway.
Here's another project that got sidetracked due to the greenhouse. It will be carried over to 2010 along with the garden fence project.
8. Expand the birdbath garden. It needs a beautyberry somewhere and a couple more ornamental grasses.
I did expand the birdbath garden but not exactly as I intended. I added a large sitting rock, a physocarpus (ninebark), 'Powis Castle' Artemisia, and a few other plants along the way. I added the beautyberry in another location because I just had to have one somewhere!
9. Build my rustic log bench. I still have two chunks of trees that I brought home from my in-law's tree cutting extravaganza last year (2008). I need to strip the bark, stain them, then add the bench seat made from reclaimed deck lumber.
Yet another little project I never finished! It's an easy one but not a high priority. The stumps do pretty well for sitting spots as is. The neighbors cats enjoy it and so do my kids.
10. Create a pathway for the shady garden corridor. I haven't decided if I want to put stepping stones laid into the grass, create a gravel pathway, or use reclaimed bricks (I'd have to find some of those). A moss cover brick pathway would look pretty nice I think!
For now we've decided to just use the grass. Any bricks or stones I come across will become flooring for the greenhouse. When I decided to do the greenhouse quite a few priorities changed with my project list but we'll see if I can get them done in 2010!
Tomorrow I'll have a list of my 2010 projects. What projects do you hope to tackle in your garden in 2010?