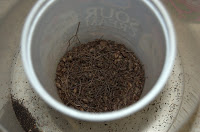 Back in the fall I collected quite few seeds heads from our heucheras for the purposes of growing more heucheras this spring. Heucheras don't necessarily come true if grown from seed but some do like 'Palace Purple'. Because 'Palace Purple' is so easily reproduced from seed is probably why it is the cheapest of the heucheras and most easily found throughout the garden centers. I have 'Palace Purple' seed heads in the seed mix but have also incorporated other varieties from our heuchera collection. These may or may not breed true but to be honest I would rather see something unique emerge from the new crop of heucheras.
How to Separate the Seeds
You might be wondering how I separated such small seeds from the heucheras. It really is fairly easy, and cheap too. When I gathered the heuchera seeds I stripped the dry seed pods from the plant with my hand and collected them in a cup. They sat in the cup for several weeks until I finally got around to separating the seeds! (cold snowy days are good for these kinds of indoor activities!)
After gathering the seeds I followed these steps:
I collected three containers. 1 Large for catching the seeds, 1 to put the seed pods in, and one that will nest into the seed pod container. (I used yogurt cups for the smaller two and a CD container for the large one. Ice Age motif not required!)
Then I punched a few holes into the seed pod container. The more holes you add the faster the seeds come through. Be careful with the size of holes you put in because the chaff can get through larger holes and that is what we are trying to filter out. Use smaller holes for smaller seeds.
Next I put the seed pods in the container with the holes.
Then I used the smallest cup as a pestle to grind the seed pods and release the tiny heuchera seeds into the largest container as they fell through the holes.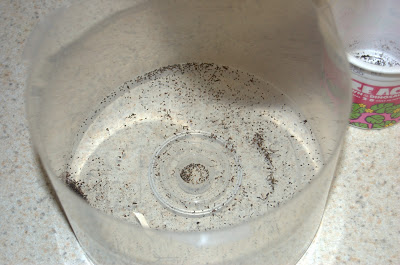 It amazing how many seeds came out of just a few heuchera plants. It's not rocket science but this technique can be used for many kinds of seeds and really works great for the teeny tiny ones. At least it gave me something to do on a sub-freezing winter day. Every seed that germinates is at least $4 that I end up not spending at a nursery, I really like free plants!