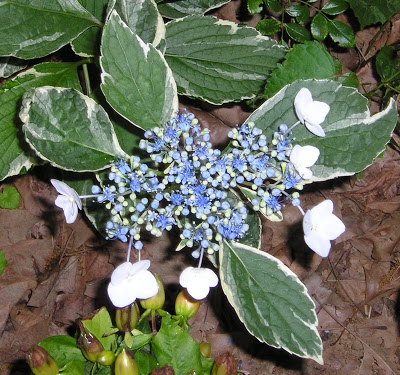 A couple years ago I propagated a variegated hydrangea from a beautiful hydrangea that was in my wife's aunt's garden. Hydrangeas are extremely easy to propagate and well worth the effort but unfortunately the spot I chose to plant it wasn't good enough. I had assumed that the location had morning sun and afternoon shade (which it did) but the just wasn't enough afternoon shade for it to survive. Sometimes even the morning sun here is too intense for plants that need those conditions.
It took me a while to get around to it but I finally ordered one from Santa Rosa Gardens. (Santa Rosa Gardens no longer sells plants individually, they have gone wholesale buy there are other sources and don't currently have hydrangeas). They were having a clearance sale on their plants and I picked up one 'Mariesii Variegata' for $2.99, that's a price that's hard to beat!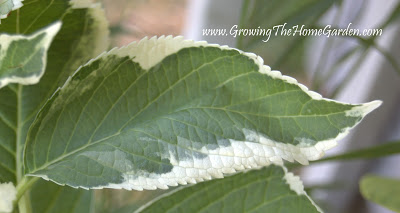 What makes the variegated hydrangea so special? It's a matter of personal taste I guess but for me it's the variegation combined with the lacecap flowers. I like all hydrangeas but when comparing the lacecaps to the mophead hydrangeas (which are also Hydrangea macrophylla) the lacecaps win out every time!
The variegation adds an element of interest when the plant isn't in bloom. No matter what kind of hydrangea you like they are worthwhile to plant in the garden if you have the right place for that right plant!
Variegated Hydrangea (Hydrangea macrophylla) 'Mariesii Variegata':
Where to plant hydrangeas?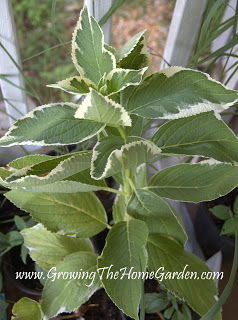 A location that gets morning sun and afternoon shade is ideal. In the south err on the side of more shade (a couple hours morning sun and the rest of the day shade.) Avoid afternoon sun at all costs! It likes zones 5-9. Find a location where it can receive good moisture.

How to Propagate Hydrangeas?
Stem tip cuttings, greenwood cuttings, and hardwood cuttings all root well.
For Specific Hydrangea propagation procedures visit my post on Propagating Hydrangeas.
Plant Growing Details for 'Mariesii Variegata' Hydrangea
Below are the ideal growing conditions for 'Mariesii Variegata' hydrangea.
| | Best Conditions |
| --- | --- |
| Sun vs Shade | Afternoon Shade, Dappled Morning Sun |
| pH | 6.0 to 8.0 |
| Moisture | well drained but moist (don't plant in soggy locations) |
| Size | Width: 4-5 ft, Height 4-5 ft |
| Hardiness | 5b to 9b |