Thank you to everyone who entered the drawing for the 'Woodle Orange' Heirloom tomato seeds. You WILL enjoy these next year or I'll give you your money back! (Oh wait you didn't pay anything – oh well ;))
The winners as randomly selected by Random.org are can be seen below in the picture. Just count down the commenters until you match up the number in the picture to find out who won or simply look at my list below (Darla removed herself from the drawing so her comment should not be counted). If the winners will send me an email (thehomegarden@gmail.com) with your mailing address I'll send the seeds out this week! You won't have time to get them started for this year but be sure to save them with your other seeds to start next spring. Can't you just taste them? Maybe that's just me, they do taste excellent on a burger like I had tonight!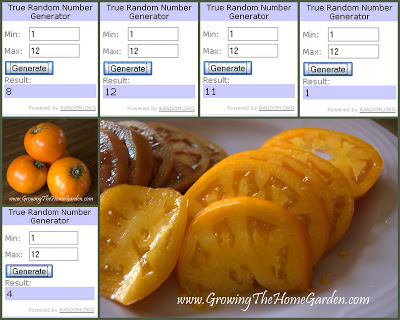 The Winners:
Melody, Pam, Victoria, Monica, and Tom M
Congratulations and thanks for commenting!
There will be another giveaway next week so make sure you check back on Friday!
The Home Garden: A Look Back at the Week