http://www.growingthehomegarden.com/2010/08/garden-blogger-posts-of-week.htmlWelcome to the second week of Garden Blogger Posts of the Week. Last week I highlighted two posts that I thought were interesting, unique, or stood out in some way (cool pictures etc.). Today I'll mention a few more. Please pay them a visit when you get the chance!
I thought Nancy Bond's pictures of the eagle were very cool. Imagine looking out your front door to photograph a bald eagle! And all I get are gold finches and cardinals!

Gail's post resonated with me this week because of the sentiment she expressed. Much of my garden isn't looking like I want it to because of various factors – and often all I see are the bad things. Gail reminds us to not forget about the good things that make our gardens special to ourselves.

Meems in NYC wrote a post thinking about starting her own garden shed! Of course since I've been working on a similar project I thought her upcoming project is definitely worth following.
Please visit those three bloggers if you haven't already!
And if you would like to catch up on The Home Garden Posts this week here's the weekend wrap up!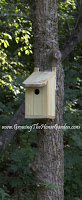 Last weekend I tackled a couple projects. One was a plant holding bin/raised bed and the other a birdhouse. The plant holding bin took some time to complete but having a place to put extra plants and the results of my home plant propagating will be very helpful. Another project completed this week was a second raised bed made for housing my strawberry plants. It's a raised bed garden that is built into the slope to give the garden a tiered effect.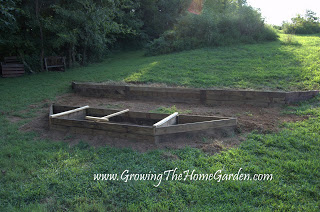 Another post mentioned layering as a plant propagation method. Two plants in my garden layered this week to provide me with a couple more free!
I also announced the winner of the organic weed killer products and told you about some little tulip poplars that need new homes.