What posts stood out to me this week? Read on!
I was struck by the beautiful setting in Rob's post at Our French Garden in the Beautiful Dordogne. The rest of the post is great too but you know what they say about first impressions!
This week was Carol's Garden Blogger's Bloom Day which is always worth a look at all the wonderful blooms each month that people submit through their own postings. Also you really should take a look at Hayefield's post which is written by Nancy Ondra and great garden author. She always has something fantastic took look at! If you liked the caryopteris I showed you earlier in the week pay attention to her Summer Sunshine caryopteris!
And for the first entry to the Fall Color Project go visit Mr. McGregor's Daughter. The colors are just beginning! Her post will have the top spot in next Friday's Fall Color Post. Remember that every Friday I'll put together the Fall Color Project Posts for the previous week in one summary post.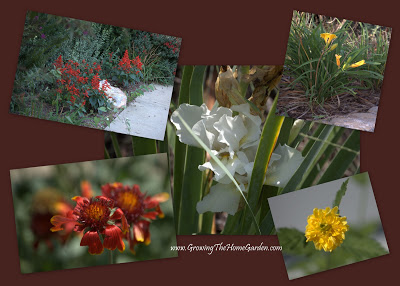 If you want to catch up on what I wrote this week for The Home Garden take a quick gander below! (yep I used the word gander in a sentence for the second time, can you believe it?)
Last Sunday I wrote a post about what needs done in my front garden. While I accomplished some weeding and moved a couple small plants there is still a lot to be done. There always is more to be done isn't there?
I'm pleased with how my caryopteris row is turning out. I only had a couple more gaps to fill in which I tackled later in the week. I can't recommend caryopteris enough for fall blooms. Get it, plant it, love it!
You may have missed a small update on a shelf-cabinet I built for the garden shed. It's time to get more storage for pots and all the miscellaneous trappings of a busy greenhouse!
For my entry this month for Bloom Day I added a little collage effect on the pictures. I was surprised by how much I had blooming and needed to consolodate a few of the pictures. The collage was a neat option.
Cilantro – I like it and it's growing again in the garden!