This weekend was a busy one and not even really in the garden. The garden chores that need attention are significant but sometimes I actually have to get out of the garden to do other things! Hard to believe but it's true! This weekend had me shopping for materials on Friday night until 9:00 at the local home improvement store followed by a closet organization remodel (with custom built shelves) in my daughters' room on Saturday. I do have to admit that the garden was not completely neglected, I did manage to buy two Camellia x 'Winter Snowman' plants while shopping for supplies! 'Winter Snowman' is a camellia that is a hybrid of Camellia sasanqua and Camellia oleifera. It's a cold tolerant camellia that is supposed to be hardy in zone 6 and flowers in November or December.
After a hard day of measuring, cutting, sanding, painting, screwing, and sweating I saw this sunset I had to share. It's an almost perfect picture except for the utility poles.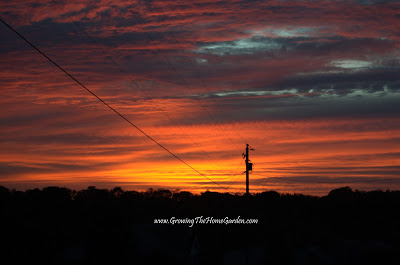 A September Sunset
Cooler weather began to creep in on Sunday with wind and temperatures in the lower 80's. The cool weather means that many of the neglected tasks of the hot summer can now be tackled or completed. I'm thinking of a certain garden shed in need of painting…
Now that fall is here what chores are you looking forward to doing in the garden?