In my second year with our garden I experienced the joys and wonders of living with deer. In the three and a half years since I've learned a lot about protecting plants from deer but I still suffer from their exploits frequently. Most notably this year the deer discovered my vegetable garden for the first time. Maybe you noticed the lack of vegetable garden posts in 2010? The combination of super heat in July and August, marauding deer, and the ever continuing dryness pretty much knocked it out by the end of July. (If this dryness ever ends I might actually get some greens going!)
Needless to say the deer have been my nemesis. That first year in our garden I planted several trees. Mostly maples but also a Yoshino Cherry, a dogwood, and a purple leaf plum. That fall I experienced my first deer rubbing. Well I actually didn't – the trees did! You see in the fall antlered deer like to rub the fuzz off their horns against soft young trees. I didn't know this back then but I do now – you have to protect your young trees if you have deer near. In that season the deer killed the dogwood and nearly killed all the others by scratching the cambium layer right off the trunk. Fortunately the trees that survived were left with enough bark to continue their natural processes without any impact but that dogwood was one unlucky dog. That year I learned my lesson and you can believe that after seeing 5 deer near our yard – one of which had 4 points – I'm going to protect them.

How do you protect a tree from deer rubbing?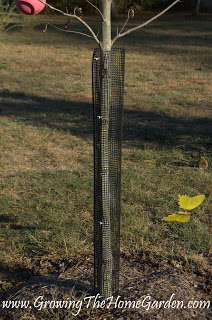 I like to use a plastic mesh that allows air to circulate around the tree yet is enough of an impediment to prevent the deer antlers from messing with the trunk. I bought a 15'x3′ roll of the mesh and cut it into three 5 foot sections. Then I cut each 5 foot section into 2 18″x5′ sections. I used the longest side to wrap vertically around the trunk. Then I used twist ties to bind the mesh together. It works much easier than cutting through thick perforated pipe but is another effective way to prevent deer from rubbing the bark.
How do you deal with the deer?