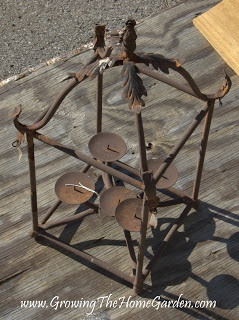 A few weeks ago I happened to be in an antique store (I'll bet you didn't see that coming!) when I stumbled across this rusted old candle holder. It was only 5 dollars and I thought that it had some potential. If I cleaned it up and repainted it I could put it on our front porch during the growing season with some LED candles. I haven't added much garden art to the garden as of yet but I thought this would serve to add some light and atmosphere to our front porch.
So after a little bit of sanding with steel wool and a coat of metallic paint here's what emerged from the rusted old candle holder:
Not too bad for $5 and a can of spray paint!
How do you like to add light to your garden?