Yellow is a color that just seems to brighten things up. It's like bringing a little sunshine to the earth and into the garden. Most of my yellow plants love soaking up the sun which is great since shade in my garden is extremely limited.
This yellow achillea is just outside my vegetable garden. It attracts all kinds of pollinators and has never been nibbled on by any deer or rabbits.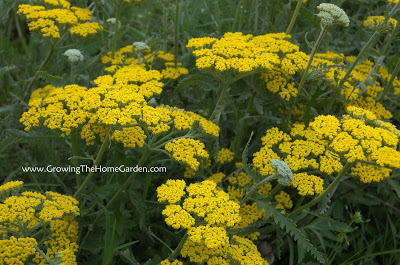 Another yellow flowering perennial is this coreopsis. I have no idea what the variety is since it self-sowed in this location next to the 'Husker's Red' Penstemon. I suspect it's related to a 'Jethro Tull' coreopsis I once had. Sadly 'Jethro' is no longer with us, but maybe 'Jethro Jr.' lives on…
One of my favorite yellow flowering perennials is this gaillardia, 'Oranges and Lemons'. It doesn't seem to enjoy locations that are too wet in the winter but otherwise is pretty easy to grow. It's offspring will not return true but can be quite attractive anyway. My first 'Oranges and Lemons' gaillardia that died left behind seeds that became a really nice replacement. Gaillardias bloom profusely and never seem to quit until the weather changes in late fall. 'Oranges and Lemons' is patented so no illegal plant propagation for this one!
What yellow flowering plants do you use in your garden?