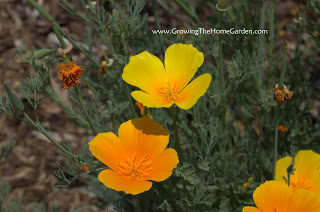 Last year I bought a packet of California poppy seeds. I planted the poppy seeds in the fall just like I do my red corn poppies and here they are now. The blooms are bright and nothing short of spectacular. The foliage isn't too shabby either. It reminds me very much of the foliage of my 'Powis castle' artemisia, silvery in hue with feather like leaves.
Most of the California poppies I planted are in a front garden area I started also in the fall. The poppies provide some late spring and early summer color in this garden.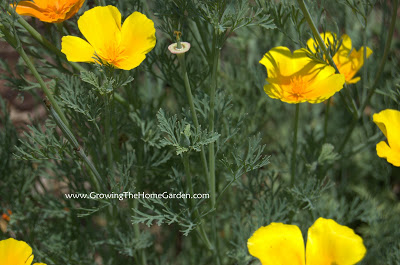 I planted a few 'Caradonna' salvias from cuttings nearby which actually became enveloped by the poppies. Behind them both is a 'Golden Jubilee' Agastache and the blade like leaves of several irises. Next year this whole garden should look like river of flowers going from daffodils in early spring to irises in late spring. The summer blooming flowers like coneflower, 'Montauk' daisy, and various annuals will fill out the outside areas.
Why do I like to plant poppies?
Poppies are easy to sow – just sprinkle the seeds in the fall.
Poppies are easy to grow – just let mother nature have her way with them. Despite the current drought cycle we're in the poppies haven't stopped blooming!
Poppies look awesome!
Are your poppies still blooming?