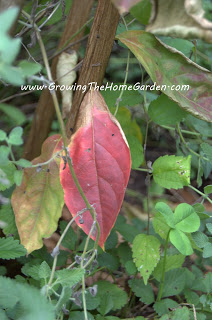 It's no secret that this has been a challenging year for our family. My father's health issues and fight with cancer completely drained our enthusiasm and many things have suffered. That is one reason why this fall is so welcome. Fall represents the closing of the growing season. Winter will come soon after and gardening chores and projects will become much less frequent. The chores and projects will never stop (I'm too addicted to gardening for that!) but the slow down will be very welcome. Fall has always been by favorite season and the warm days and cool breezes here in Tennessee usually make for awesome autumn settings.
When I was still teaching (before I became a stay at home dad) we lived in the foothills of the Smoky Mountains and let me tell you that that area is one of the most beautiful places for fall scenery. I didn't get to hike in the Smokies as much as I would have liked (too many school duties on the weekends, yep on the weekends) but when we did the fall foliage was spectacular.
Since those days I've tried to fill my garden with plants that will give us that sense of brilliant fall color. Now every fall I check the progress of my plantings as they grow and become larger focal points of fall color. I've planted maples, lots of maples. 'Red Sunset' was our first maple planting but other red maples (Acer rubrum) have followed including a 'Brandywine' and three non-named maples. Japanese maples have been planted too including 'Sango Kaku' and two others. I also have several Japanese maples that were grown from seed but haven't been planted in the ground yet. Crape myrtles also provide a good amount of fall color.
The native trees around us provide most of our fall color. Sassafras, maples, oak, and hackberry trees are all common around here and frame our yard. They give us the impression that we are all alone in our yard, at least until the leaves drop and we can again see our neighbors. I would love to have a nice stand of pine trees just on the other side of all our deciduous trees!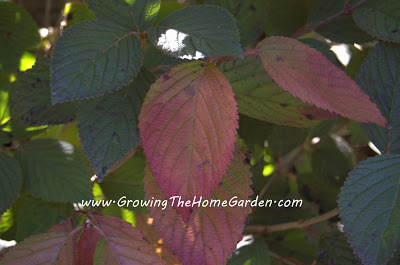 'Shasta' Viburnum Fall Color
I've planted shrubs that exhibit some good fall color too. Viburnums are one of my favorite shrubs but not all viburnums have a great fall display. The 'Shasta' viburnum is reliable performer as long as it doesn't drop it's leaves too quickly. I've planted blueberries (a couple times now) for both the fall color and the edible fruits although as of yet we haven't been able to enjoy either! I planted a fothergilla and a purple smoke tree (names 'Grace') both of which are said to have great fall color. The fothergilla is just now getting large enough to be showy. but the smoke tree has been in the ground for three seasons now and hasn't grown much. The deer have nibbled it every year except for this year. Maybe it has a future yet!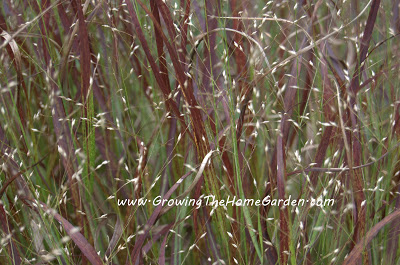 'Shenandoah' Switchgrass
I've planted a lot of trees and shrubs but grasses are great for fall and winter interest. I have a definite preference for the switchgrasses since they are native. If you don't worry about planting natives switchgrasses are spectacular choices anyway. 'Shenandoah' is my fall color favorite with its beautiful red hues but the garden also has 'Heavy Metal', 'Northwind', and soon will have a few more varieties.
It's a fun time of year to be a gardener. It's almost as if the fall foliage becomes a canopy of flowers. The colors are changing and it is most definitely fall!
Are you looking forward to the slower pace of gardening in the offseason?