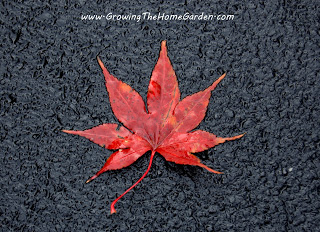 Of all the fall colors I've seen this year the Japanese maples seem to have topped all other trees. This Japanese maple at my mom's house was figuratively on fire with red foliage lighting up the scenery. I didn't have my camera with me when it was at its peak but even past peak it's beauty can still be seen.
When bare this Japanese maple (possibly a 'Bloodgood') has a cool vase shaped form.
I've always enjoyed seeing pictures of falling leaves making a carpet of foliage on the garden grounds.
This maple is the mother plant of the Japanese maple I planted for dad. Together with another Japanese maple I planted earlier in the summer (which is also from the same tree) it should one day provide a spectacular fall show.
Japanese maples may take some time to grow but the wait is worth it!