The garden is coming alive now that February is in full swing. The extra warm winter is supposed to become much more normal over the next week but that won't stop our spring growth. Yesterday I saw the 'Okame' cherries beginning to bloom. Unfortunately I don't have any here in our garden to show you but it won't be long before I have the 'Yoshino's in bloom. 'Okame's are the first cherry trees to bloom in our area. The trees I witnessed flowering are located on an island between two sections of asphalt and receive a considerable heat benefit from the blacktop but it won't be long before the trees in our garden begin to bloom.
Here's what's going on in our garden so far!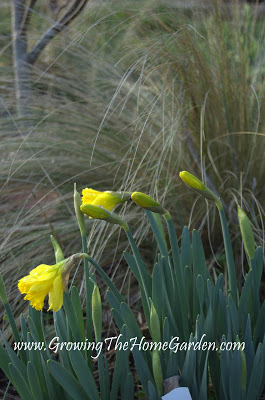 The daffodils are out in force now. The early flowers are blooming all over the place but many others are only now emerging. It's amazing how different regions of the yard and different types of bulbs can effect their growth cycles. I like the effect of the Stipa tenuissima ('Ponytail Grass') behind the daffodils.
The clover is greening up. I snapped this picture the other day because I thought the drops of water looked very interesting! Almost like little globes of glass. Many people consider clover a weed but you shouldn't. Clover is a legume and adds valuable nitrogen to the soil. Clover is frequently used as a cover crop because of its nitrogen fixing property. Also clover is a great natural flower for the bees. They love the stuff! If you like bees, beneficial insects, natural nitrogen fixers, and clover honey don't eliminate the clover in your yard, learn to appreciate it.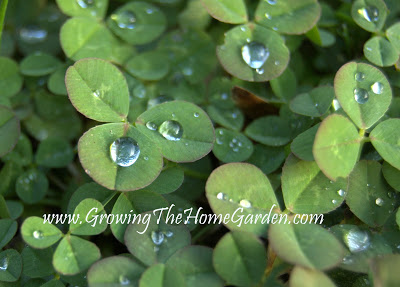 The pansies are beginning to bloom again too. I planted them in the fall at a cost of about $0.50 a plant from the discount rack. Pansies take the cold really well and when planted in fall come out strong in the spring. I don't really understand why being called a pansy is an insult. They are tough little flowers! Of course they don't like it hot, I guess it just depends on your perspective. Next to the pansy is foliage that belongs to a tulip just beginning to come up. It won't be long before the tulips fill out our front garden.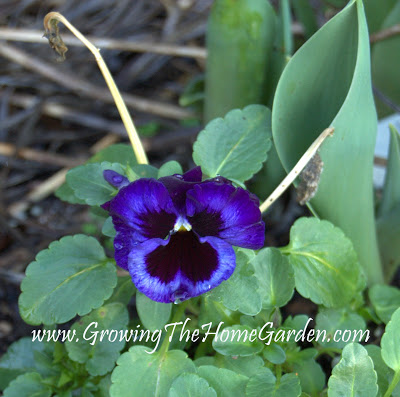 What's going on in your garden?