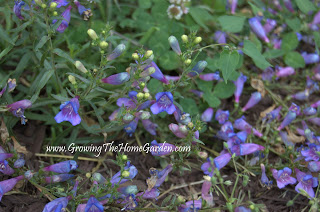 I've been so busy that I've neglected the blog for a few days. I even had to miss posting the Friday Fives last Friday in order to get everything done! Fortunately the weekend rains and Mother's Day gave me a bit of a break to catch my breath but I still feel like I have a to do list a mile long to accomplish. I hesitate even to show you the current state of the garden. The weeds are growing a mile a minute and I just haven't had a chance to get out there. (With over two inches of rain from the weekend they will grow even faster now.) You're probably wondering why I'm so busy. OK…even if you aren't you probably are now, if not just pretend and read along anyway. 😉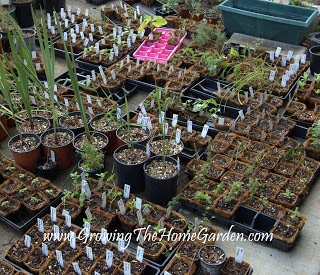 My mini-nursery business deliveries were mostly fulfilled last week. There are still a couple more to go but the majority of the plants have been passed out. I think during the first year of a business there's a lot to learn. Mistakes get made but if you can overcome them you learn quite a bit about how to do things right. My biggest issue was not starting the plants quite early enough. Our warm snap made people very eager to start their gardens. Next year I'll start a few weeks earlier with the peppers and tomatoes. I won't deliver until after the safe planting date but the extra growing time will help the plants to fill out better. The other issues were management of my "facility" issues. A better arrangement of where I place my plants and how I fill the orders will make things much less stressful in the long run! I spent too much time filling the orders because I was looking for where I put the plants. I'll learn from this and we'll the nursery will get better because of my mistakes! If you're thinking of starting a nursery please remember – it is a lot of work! I enjoyed it, but it is a lot of work!
I decided on and launched a new name for my nursery last week. I bought a domain name for the nursery but right now only have a Facebook page set up for Blue Shed Gardens (I would love to have you follow along)! My idea is to use it as the main nursery and use The Home Garden Box as one product of the main nursery. My goal for Blue Shed Gardens is to have a heavy emphasis on native plants but I also want to be inclusive of other interesting species. Essentially that means I'll grow what I like! No matter what plants we grow we'll be staying local for now.
I spent last Thursday afternoon at the Spring Hill Farmer's Market. It's a small but growing farmer's market in our town. Merchants at the market are required to have home grown or homemade goods and live within 15 miles of Spring Hill, TN. The emphasis for the market is to keep things local and help our community. It was my first time ever selling plants at a farmer's market and went pretty well for the first time. My most popular items were the tomato plants but I also sold some butterfly weed and some herbs. I also had a small inventory of ornamental grasses, Japanese maples, viburnums and various other shrubs. This week I'll have some heirloom watermelons at the market.
Everyday last week I planted another flat of seed including melons and other cucurbits as well as more unique plants like heuchera, hosta, and coleus. Obviously the hostas and coleus aren't native plants but I like them so I'll grow them! Normally folks recommend planting the seeds for heucheras and hostas in the winter time and growing them under lights and heat until spring. I found the seed in the refrigerator and thought it would be neat to get them going so I did! They don't usually come true to the parent plant but I'd like to work on propagating and perhaps developing some new interesting types. So far I think I only have one hosta germinating but it could take two weeks for most of the seeds to start growing.
In the mean time while I've been doing all these other activities my garden has suffered! I have planted out several tomatoes and peppers as well as seed for cucumbers and melons but the garden is getting weedy. The potatoes look great so far and I can't wait to see what kind of harvest we'll be able to get from them. There's a lot to do.
As soon as you figure out how to either stop time or add more hours to the day please let me know!