What does a gardener's garage look like? Before you put an image into your mind please realize that the photo I'm about to show you is extremely embarrassing. My garage has never been a priority for me – the garden has been! When you add three kids to the mix who never seem to be able to put something back where they got it from you have a recipe for a messy garage. But thankfully Lowe's and Creative Ideas are giving me the motivation to tackle this unorganized disaster area. I'll show you the before photos in a moment, but first let me tell you what we use our garage area for and it isn't for cars. We don't park there, even though we would love to, our garage is an activity/storage area. For me the garage is where I have grow lights set up and where I start my seedlings for my business. It's also where the tools go – both for gardening and for other assorted purposes. For the kids it's where they get their toys and their bikes. For my wife the garage is somewhere she passes through to get inside the house while trying not to think about the mess!
The garage is full of pots, plant tables, shelves, a refrigerator and freezer, numerous storage crates with clothing we'll never wear again, old college books, and all kinds of junk. We aren't candidates for one of those reality TV shows that highlights extreme packrats – we're not that bad – but the mess is frustrating to work around. To tackle some of this issue we decided to organize one very common use for the garage that will help us manage things just a little bit better – shoes! Yes this is still a gardening blog but I am going to talk about our shoes. The five of us have accumulated a large collection of frequently and infrequently worn footwear. Boots, tennis shoes, flip flops, and mocs all times five. We have to have somewhere to put them where they aren't in the way and can be put on conveniently for all our activities. So here's the target area: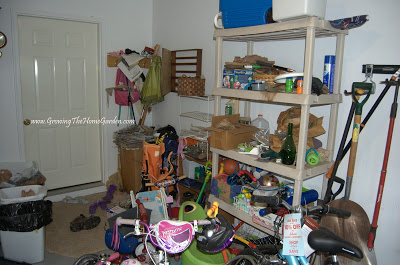 The target itself is the corner between the door and the right wall. This is where I'm going to put together a bench for sitting on with an area for shoe storage underneath. Right now there is a bookshelf in that corner where the shoes area kept. It will be moved and used to store the kids toys and garden tools and the shelf in the middle will once again go back to housing gardening equipment! You see there is a gardening aspect to this after all – I get to reclaim lost space for storing my gardening gear. Now I don't want you to think I'm a complete organizing disaster (although I'm sure my wife will argue differently) so I'd like to show you the way I organize my tools.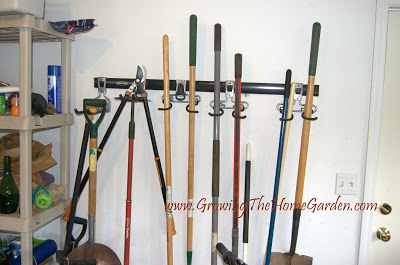 It's a nifty little track system from Rubbermaid that I bought from Lowe's a while back. It holds up most of my gardening tools and keeps them from getting in the way. It's a 4 foot long track system where you can attach different types of hooks. I'd like to install a few more of these around the garage for other tool areas.
I hope the bench turns out as nicely as I have it made in my head! I've already set most of this project into motion and hope to complete another section of it later today. Come back and see what the result is and if it will actually help keep me organized!