By now you've probably heard about the study that says organically grown vegetables are not any healthier than their "conventionally" grown counterparts. If you haven't I'll sum it up in a nutshell. The study examined the nutrients and vitamins present in organic produce and compared it to conventionally grown vegetables and didn't find a significant difference between the two.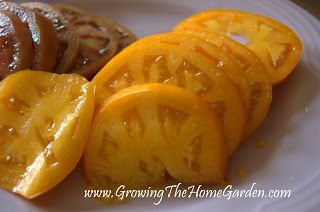 This might be true, however it's not the end of the story. The study only measured the nutrient capacity of the vegetables and didn't factor in other significant factors.

Side Note: Conventional is used to denoted plants grown with use of pesticides, herbicides, and artificial fertilizers. These are more modern advances. Before the advent of these chemicals all vegetables were grown organically!
So let's take a look at why growing organic vegetables at home is still better than conventional vegetables!
5 Reasons Why Growing Organically in the Home Garden is Still Better
Organic gardens use a minimal amount of pesticides when used and when pesticides are used they are created naturally. This keeps synthetic chemical residues off of vegetables produced in the vegetable garden. To me this is the single most important factor in buying or growing organic foods. I don't worry about the nutrition, I just don't want to eat the chemicals!
Organic gardens are healthier for our environment. They don't contribute chemicals into the watershed or leach dangerous chemicals into the soil. Some chemicals break down over time and their impact may be minimal but extended use over time or massive amounts of chemicals used by farmers and gardeners could have a significant impact on the ecology.
Natural additives like compost contribute to a healthier environment for earthworms and microbes. The happier your earthworms are the more castings they produce and the happier your plants will be! Many synthetic chemicals will leave salts behind in the soil which can adversely effect the soil.

Chemical pesticides kill off beneficial insects as well as the damaging insects. While one single cause hasn't been defined for colony collapse disorder among bees pesticides may be a factor. Sometimes killing off a few bad bugs can hurt a great many other bugs. It's much better to use techniques like companion planting to control the insect population. Encourage the predator bugs to visit your garden and the prey will move on to less dangerous pastures – or get eaten!

Another thing the study did not cover was the freshness brought to you by growing in the home garden. When you pick a tomato you pick it ripe. You pick a tomato with a shiny red color that makes your mouth water (unless it's supposed to be orange!). When a tomato is shipped across the country to sell in another state it's picked early. Most likely when it is just beginning to turn orange. The tomato doesn't have time to sit and bask in the sunshine to develop all the nutrients it should have. Fresh from the garden tomatoes have that time!
While I understand the study's purpose is to discover and validate science keep in mind that this isn't the study you need to use to determine how you grow or buy your vegetables. Keep the pesticides in mind. The fewer chemicals you consume the healthier you'll be!