For several years before we bought our house we lived in an apartment. I still had the gardening bug and couldn't resist planting a vegetable garden in pots on the porch. While today I have ground to plant in I still utilize the porch and deck on our house to grow a few plants. Here's a look at a few porch and deck plants we're growing.
I planted the coral red honeysuckle but the blue morning glories were volunteers. Morning glories are beautiful plants but can be very prolific if allowed to go to seed.
I plant moonflowers every year. The extremely large white flowers that open in the evening are fragrant. I planted 3 of these along the front porch but they did not all grow as I had hoped!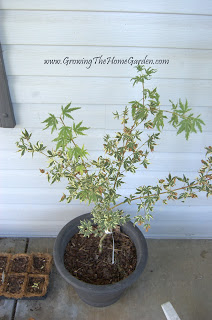 Vine plants work great on the porch rails but that isn't all you'll find on our porch. Check out this Japanese maple called 'Beni Schichihenge' I bought this year. 'Beni Schichihenge' sports variegated foliage. I put it in a pot since I wasn't sure where I really wanted to plant it yet.
The front porch also has quite a few of my propagated plants. Hydrangeas, variegated weigelia, beautyberry bushes, heuchera, and mums. There are also some hostas that I've potted up and haven't planted yet in their new homes. I have a good area for that now so I should get out there and let them get settled in before the cold weather gets here.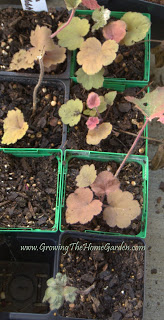 These heucheras were made from one small segment of a stem that I cut into severn pieces. I made sure each piece had a portion of the stem and one leaf. All but two have put out new leaves since the cuttings were made.
Here are some hostas I ordered earlier in the year. To the right side of the photo are several 'Longwood Blue' caryopteris plants I propagated. The caryopteris row is in boom right now but I'm afraid we're getting too much shade over there for them to stay in that spot. To insure I don't lose a plant when transplanting I make a few cuttings and plant them where I want them.
Here is a variegated weigelia. I bought the plant last month on the discount rack and planted it. I made two cuttings from it then the main plant died! That's why I like plant propagation!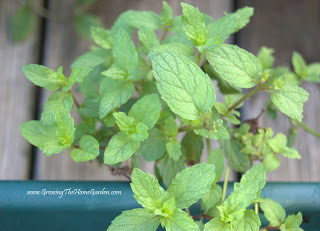 I use the back deck for potted herbs that enjoy more sunshine than the north facing front porch gets. the back porch holds three types of mints including apple, orange, and a mystery spearmint I found growing wild. That mystery mint has some of the best spearmint flavor I have ever tasted! I normally plant mint in easily controlled areas since it typically spreads like wildfire. This fall I hope to build a couple raised beds in the yard just for our mints and other herbs.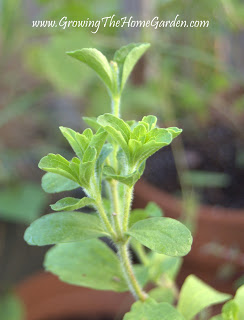 The back deck also is home to our potted stevia plant. I was amazed that this tender perennial came back last winter. I fully expected it to succumb to the cold winter – but it wasn't a cold winter. I'm not taking any chances with it this year. Since my stevia is in a pot I can bring it indoors to overwinter.
Our chives, which are now flowering, are on the back deck too. Very convenient to the kitchen!
Don't let the fact that you only have a deck or porch for your outdoor area limit your gardening experience. Lots of plants are easily grown in pots!