The other day strong winds blew through Tennessee. They were not just your normal winter winds, these were March winds – in February. The kinds of winds we normally get in spring when the weather changes more frequently between warm and cold fronts. Unfortunately I wasn't prepared for the high impact of the winds. Two glass shower doors were propped up outside next to my potting bench waiting to be used for a project. The wind caught them from underneath and knocked them over onto the concrete paving stone patio. One door was fine, the other was completely shattered.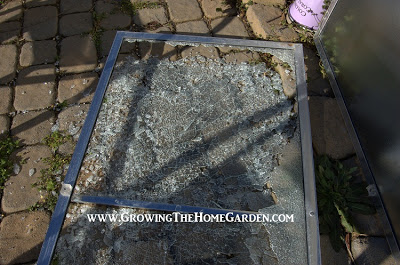 Grow House from Gardener's Supply
(Aff. Link)
Glass shower doors are useful for all kinds of garden projects. I had planned to build a small seed starting cabinet similar to this one from Gardener's Supply Company in the picture to the right. I should still be able to do that with the remaining shower door and some lumber. The frame of the shattered glass door may even be useful for another project somewhere else in the garden. I'll just have to figure out something!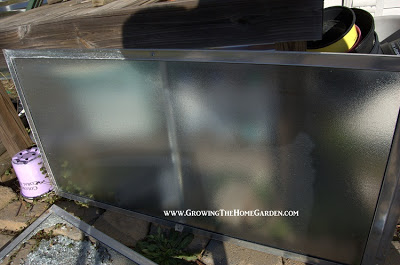 Glass shower doors are also good for using on cold frames. Many gardeners will take the door and cover set of hay bales arranged in a rectangle to give seedlings a head start. After the weather warms the door can be removed. Of course you could always use the shower door on a more permanent cold frame or even a greenhouse.
Tina at In the Garden uses glass doors like this to make some beautiful glass mosaic art for her garden. She puts glass beads on the glass door then posts the door upright in the garden to catch the rays of the sun. It's like having a own stained glass window in the garden.
What other projects can be done with an upcycled glass door?