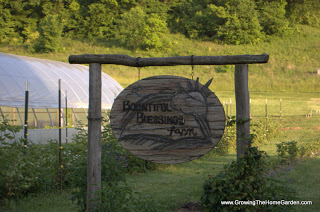 Over the weekend our family visited Bountiful Blessings Farm here in Middle TN. Bountiful Blessings is in the Williamsport area about 30-40 minutes away from where we live here in Spring Hill. The big draw for us was the strawberries. My mom gave us a couple pints of strawberries from their farm about 2 weeks ago and they were so delicious we decided we needed to go and get some more! As an added bonus they were having an open house to tour the farm which operates a CSA program.
Bountiful Blessings Farm is owned and operated by the Dysinger family. John and Edwin were our hosts but the whole family was all around. The farm is completely a family operation. John and Edwin's parents bought a piece of retirement land and invited their children to move to it. They came and eventually began second careers as farmers. Several generations now live there and work the land as a family farm. The land is blessed by a natural spring that feeds a pond which supplies water for their crops. Everything is organically grown using techniques like crop rotation, interplanting (companion planting), and of course composting! Purple martin houses oversee many of the garden as natural pest control and their friendly dogs roam free to keep the deer away from the gardens.
The farm has several greenhouses some of which are set on wheels to allow them to be moved. It's an ingenious way to start one crop with a little heat bonus then slide it over to start another. They even have tomato plants with a few ripe tomatoes ready for picking! The lettuce beds were gorgeous with multiple colors and textures.
The fennel with its fern like foliage was breathtaking as well. All grown organically!
I liked the staking method used on their tomatoes. Wires with string hang the tomato plants inside their greenhouses.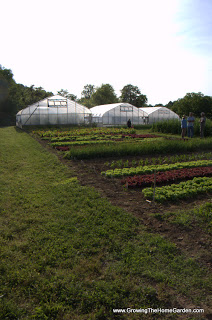 In case you are unfamiliar with what a CSA is it stands for Community Supported Agriculture. Members join for a set amount each month and are provided boxes of produce from whatever is in season on a weekly, semi-weekly, or monthly basis. Often CSA's have two separate seasons for the cool season and warm season crops. Bountiful Blessings is all vegetable crops with a few fruits like strawberries and eventually will have blueberries once their bushes are established. Some CSA's offer meat, eggs, and dairy too.
During the summer I grow most of our produce but I'm very strongly considering joining their winter CSA program to supplement our meals. I highly encourage you to visit Bountiful Blessings Farm should you have a chance, join their CSA program, or find one closer to you if you are too far away. CSA's area great way to support your local economy while getting healthy and delicious foods on the table!