First let me thank everyone who entered the giveaway for the Troy-Bilt 4 Cycle string trimmer. I really wish I could be like Oprah. Everyone in the audience would look under their chairs and find a new Troy-Bilt 4 Cycle string trimmer, but her bank account has a much higher capacity than mine! Thankfully though my association with Troy-Bilt allows me to give away one lawn product to someone in GrowingTheHomeGarden.com's audience.
Before I announce the lucky winner let me mention that two of my fellow Saturday6 bloggers are also giving away cool Troy-Bilt riding mowers. Stop over and visit Amy at Get Busy Gardening and Steve at The Rainforest Garden to enter. They are giving away the Neighborhood Rider which is a cool little riding mower great for smaller yards and landscapes. Steve's giveaway ends on August 3rd and Amy's on August 5th so if you haven't already entered you'd better stop by soon.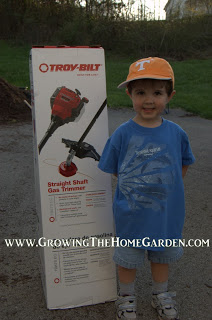 You're thinking "OK Dave get on with it!" And so we will!
The winner of the 4 Cycle String Trimmer from Troy-Bilt is Debbie!
Congratulations to Debbie Fykes!
Debbie, please send me an email to thehomegarden@gmail.com with your address information and I'll make arrangements for Troy-Bilt to send you a brand new 4 Cycle String Trimmer for your lawn and garden!
You're going to enjoy it!