I invited native plant expert and advocate Benjamin Vogt to write a guest post on attracting bees to the garden with native plants. I hope you enjoy it! -Dave
This morning, once the sun hit the main garden, I took my video camera outside. It's something I've been meaning to do, recording the most active part of the day in the fourth dimension of the garden – that of pollinating insects. I've created a nearly self-sustaining ecosystem with checks and balances in less than 5 years, and I owe much of that to gardening organically with native plants that are sited correctly.
I have three butterfly bushes that will be removed this winter. Why? As I swing the camera over not a thing is nectaring on them – not a fly, a bee, a wasp, a moth, or butterfly. They create a great, fast privacy screen each year, but they don't compare to my camera's next stop: wild senna. There must be two dozen bumblebees pulsing their bodies like sulphur streetlights turning on. Even a few sweat bees get in on the action.
It's been a while since I've seen a honeybee, and I consider that a good thing – native bees are many times more efficient at pollination than honeybees, which are specialist bees with limited skills. Supporting a diverse set of insects means more flower pollination, which means more seed to winter-sow in pots. It means more fruit in the vegetable beds. It means more songbirds and amphibians.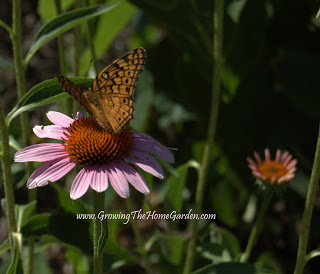 I live in eastern Nebraska, on the edge of a major transition zone between the wetter, eastern part of the U.S., and the dryer western high plains. As such, many of the plants I use might work well for you, and may even be native to you – but to be sure, I suggest following this link (http://milktheweed.blogspot.com/p/milkweed.html), where you can scroll down to the fourth header and find two links that will take you to native plant lists for your location.
Here's what brings in the bees and other pollinating insects in droves:
Baptisia: Baptisia spp. (several to choose from, both tall and short)
Mountain Mint: Pycnanthum virginianum
Coneflowers: Stronger / more attractive native species plants (not named cultivars) like Echinacea pallida, purpurea, paradoxa, simulata. This includes Rudbeckias like hirta, subtomentosa, and maxima.
Culver's Root: Veronicastrum virginicum
Joe Pye Weed: Eupatorium spp. (there are many short and tall kinds – the taller ones have hollow stalks that can be made into native bees houses)
Goldenrod: Take your pick
Aster: New England and A. laevis are favorites in my garden, but there are many asters
Anise Hyssop: Agastache foeniclum
Wild Senna: Cassia hebecarpa
Liatris: So many to choose from, not just that dull cultivar 'Kobold'
Milkweed: Asclepias, there are well over 100 species native to North America
Sunflowers: Take your pick
The key to welcoming bees into your garden is diversity in color, bloom type, and bloom time. Bees are attracted to ultraviolet runway lights on petals we can't see, as well as an opposite static electric charge. If you site your native plant in the right place, never trusting plant tags, refrain from spraying, and plant thickly, you're set. Remember, most native bees are solitary, which means they are FAR less likely to sting than a honeybee (shoot, you can hold a cold bumblebee in your hand on a fall morning, warming it up until it's ready to fly). Native solitary bees cut into leaves to use as nesting material, build nests in hollow tubes, crevices, and in the ground. So, go get beesy (sorry, I had to).
About the Author:
Benjamin Vogt writes for Houzz, owns the consulting business Monarch Gardens, and is a board member of the prairie conservation group Wachiska Audubon. His native plant garden was a 2012 pick for best outdoor space by Apartment Therapy. He blogs at
The Deep Middle
.