Winter is one of those times when many gardeners wish they could be growing fresh herbs or produce but the weather just doesn't cooperate. What is a determined gardener to do then? Build something! I decided to put together an indoor grow box/planter with a grow light to grow some plants while the weather outside is unsuitable. I used cedar fence wood (one of my favorite materials), drywall screws, a little wood glue, and a simple cabinet fluorescent light provided by Lowe's to complete this project!
First I cut the wood into my desired lengths and sizes. I used a circular saw to split one fence board in half to get two pieces 26 inches long. I cut two more pieces from another board at 2 inches wide and 26 inches. The rest of the wood was cut with my miter saw at 26″ for the top and bottom boards and around 18″ for the sides. The side height can be whatever height you want the grow box to be. Taller heights might allow you to do shelves and have more plants but I went for a simpler and smaller design.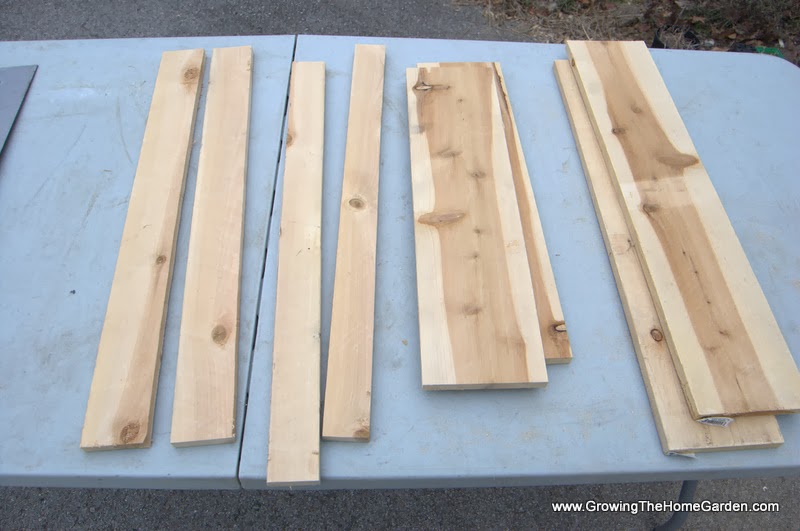 Remember to find straight and unwarped pieces of wood for your project.
Fence boards are typically "lesser" quality wood but you can find good pieces
if you are picky enough!
After cutting the wood I sanded them down to remove any rough edges.
I determined the width based on the length of this light. Be sure to allow enough space for the cord! I goofed up and had to adjust a little because I didn't factor in the cord.
I assembled the main box using wood glue and drywall screws. The wood glue will ensure a tight bond between the boards. I predrilled the holds to help prevent cracking. It kind of looks like a raised bed doesn't it? These cedar boards can make good cheap raised beds!
On the top side of the box I put my half size boards. These will function to shield the light a little bit and prevent it from going all over the place once it is indoors.They also help hold the top and sides together. On the bottom the 2″ wide boards create a lip to prevent my plants from falling off.
I installed the light in the top section after factoring in an extra inch for the cord of the light. The planter can either be hung on a wall or set on a table. I didn't have time this weekend but I plan on staining it with walnuts from the backyard for a smooth dark stain.
Since I can't decide yet where I'll put it I demonstrated the light on the kitchen floor. Excuse the crumbs – we have kids. I also bought a couple small indoor houseplants to demonstrate the planter box. I found these really neat concrete pots which happened to have some cool plants inside. I'll transplant the plants somewhere else then use the pots to grow some herbs indoors.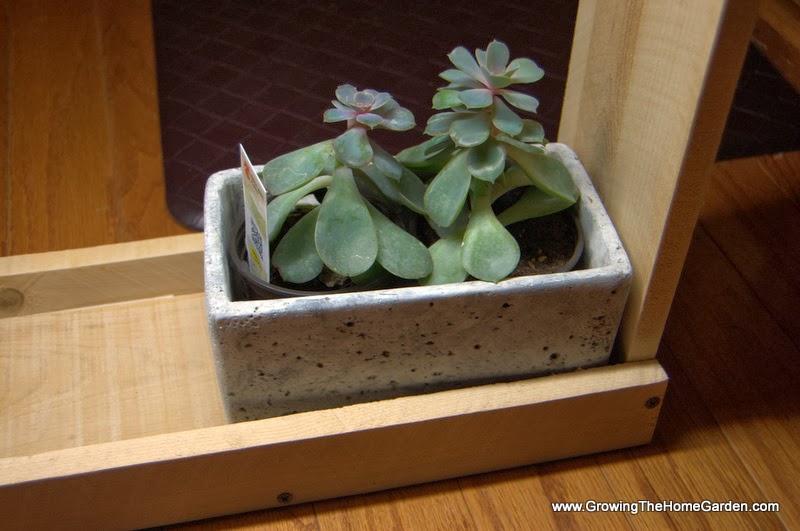 I've found with other grow lights that I don't want worry about remembering to turn them on or off so a timer is THE way to go. These house plants should get plenty of light in our house but the herbs I'll eventually plant will need at least 8 hours of light. This planter won't work for growing a tomato or pepper but would work great for growing micro-greens and herbs that can be harvested at any size.
Or I could just fill it with houseplants!