When growing products for a farmers market you have to keep your eye on what sells. In my last post I mentioned a few of the products that sell well at our local farmers market. Today here are a few more good selling products that you may want to consider selling at your local farmers market!
Baked goods and other ready to eat items are very popular at farmers markets. Many people today are looking for gluten free options but often shoppers at farmers markets are more than happy to bring home fresh baked bread for dinner. Our market has a mixture of baked goods including breads, sweets, and granola. We also have a vendor who sells homemade ice pops made with real fruit. She has quite a few customers!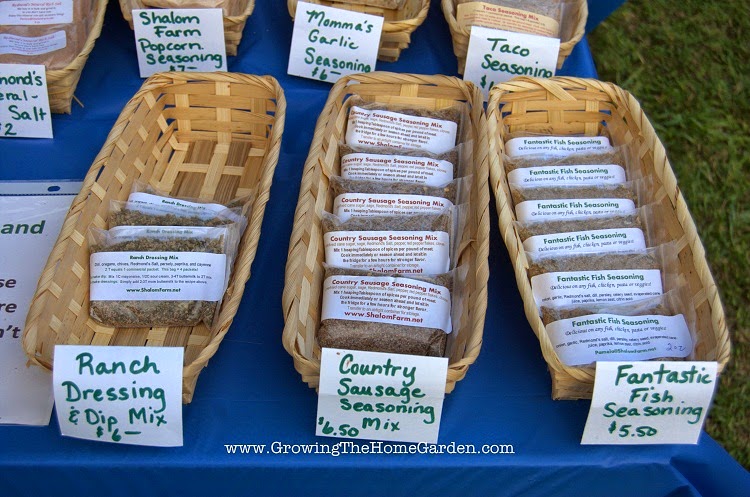 Teas, tinctures, and herbs are good items to sell. The important thing is to keep them unique and different from what is available in the grocery stores. Growing the herbs all natural and local often is enough of a hook for people but creating unique teas and tinctures is a great idea.
Homemade and natural cosmetics do well too. Soap vendors with goat's milk soaps with a variety of fragrances are popular. We even have a vendor who has a high demand for her all natural bug sprays (which really do work)!
Craft items are more difficult to sell than other items. Most people go to a farmers market looking to purchase food for the week. If your craft has a food or agriculture element it will be more successful. Just because craft items don't sell as well doesn't mean it is a bad idea to attend a farmers market. It can serve as a informational venue for your product where you can gather leads for potential future sales. You can get your business card out to individuals to use for when your product is needed. Create a mailing listing at the market where customers can sign up for a newsletter that will keep you connected with the customer outside of the market.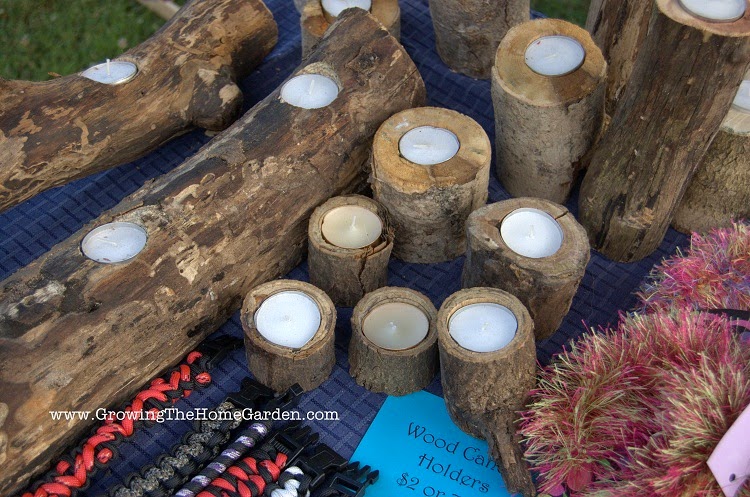 Candle Holders made from logs are a neat craft idea.
Tips for Selling at a Farmers Market!
Over the last couple years of helping to manage our farmers market I've also noticed a difference in HOW people sell their products. Not everyone is equally successful at selling the same types of items. Those who are successful make a connection with the consumer. The vendor discusses the product and even if the customer doesn't buy anything that connection becomes the groundwork for future sales. There have been many times when I discussed plants or gardening tips with someone who didn't buy from me that day but then came back another week and purchased something.
The most successful vendors at our farmers market do these things:
Create a positive connection with good genuine conversation. I think this is the BEST thing successful vendors can do. There is no substitute for building a strong relationship! Conversation is a trust building tool and that not only builds a relationship but also a reputation.
Stand Up! – Vendors who stand up and greet customers bring in more business than those who sit and wait for customers to come to them. Successful vendors greet the customers and start the conversation!
Offer Samples – If your product is something that can be sampled then offer it. Free samples are a great way to entice customers – it's bait for the mouse trap! 😉
Create a mailing list. Mailing lists let you reach out after the market and even throughout the year when the market may not be in session to continue your sales.
Use a Facebook page or other social media sites to update customers.
Have a website! People today look for information on products online first. If you have an online location that directs customers where to find you you not only build your business but bring in traffic to the farmers market which helps other vendors too.
The most important thing to the success of our
local farmers market
and its vendors is that our goal is to build a community. It's not just about the sales, it's about connecting. When I am not selling plants I bring the kids and we just hang out. We visit and talk with the vendors, with the customers, with the people of our town, and just enjoy the weather (when it isn't 100+ degrees)!
Do you attend a local farmers market?