Mowing season is in full swing here in Tennessee! It's that time of year when lawn and garden enthusiasts venture back into their grassy backyards to begin the weekly ritual of giving the lawn a perfect trim. There are lots of options to consider when thinking about that perfect lawn. One of those questions you may be wondering about is what kind of lawnmower would be best for your lawn? Today I'm going to share with you what I learned about testing the Greenworks G-Max 20 Inch Twin Force Lawn Mower. (Disclaimer: Greenworks sent me this mower to test and trial so that I could share my thoughts with you.) I was a huge fan of the chainsaw Greenworks sent me last year and was very excited to test out one of their mowers.
Greenworks G-Max 20 Inch Twin Force Lawn Mower
The Greenworks G-Max mower is a battery powered lawnmower. It runs off of two 40W batteries and comes with it's own charger. It also comes with a bag for catching grass clippings but you still have the option to run the mower as a mulching mower. The batteries charge very quickly and within about an hour you'll have a full charge.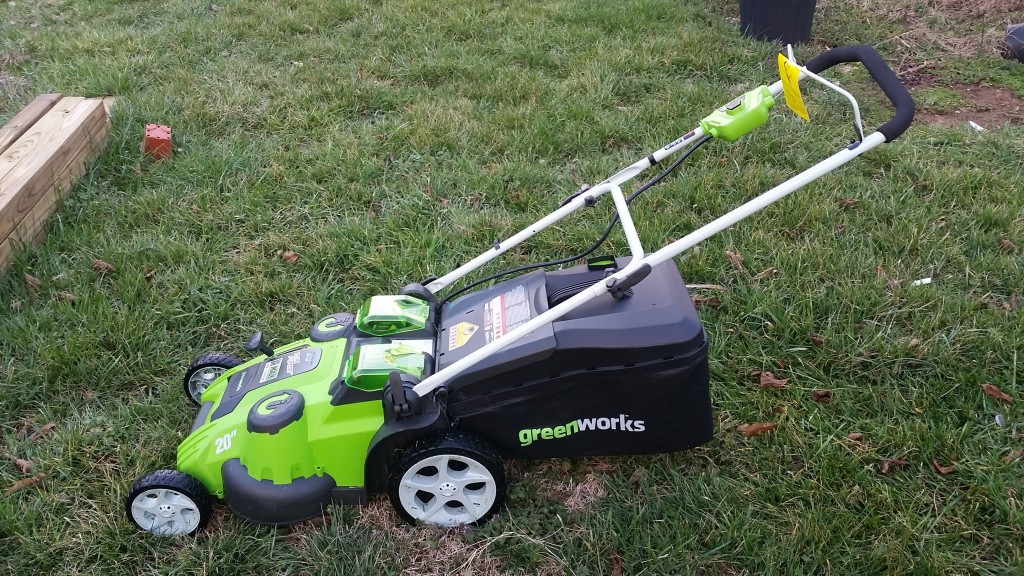 What is great about this mower is the fact that you don't have to mess around with gas! No more running to the gas station to fill up the mowers. If you forget to charge the mower you just have to plug it in and relax for a bit! Maybe do some weed pulling while you wait. There are two docks on the mower – one for each battery.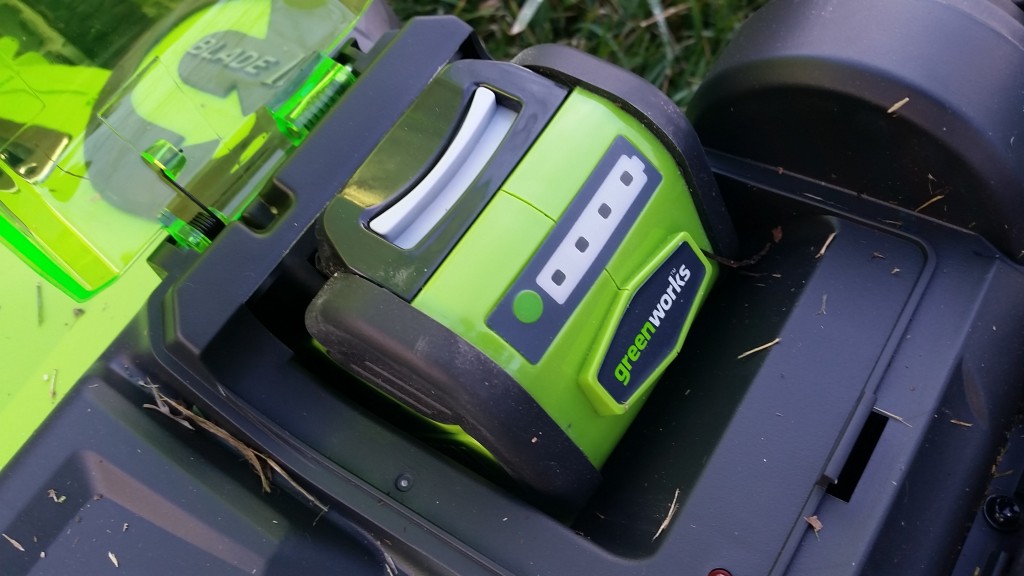 This Greenworks mower also very light and easy to push. The adjustable height lever is pretty easy to move which makes this lawnmower good for anyone who might need an easy to use mower. The startup is very simple and will get right going with the push of a button!
It cuts well but if your grass is very tall or extremely thick it may slow down the mowing blades. I tend to grow my grass on the high side and there were moments when the mower did not cut as nicely as I would have liked.
I like the bagging attachment to all mower since it gives me a great way to collect compostable material for my compost bins or for using a mulch. The grass catching bag works good but sometimes I was a little surprised by how much grass was in the bag. It was usually much less than I thought it would be. I'm not sure if this was because the mower didn't push the grass into the bagger or if my grass was just too tall at that point.
Overall I like this mower and think it would work great as an option for smaller yards or gardens. The convenience of not needing gas would certainly be a benefit to people with smaller yards. The handles fold down very easily which makes storage very simple and convenient too.
For my purposes this will make a nice trim mower around the edges of the garden beds but for the bulk of my yard I will still need to use my riding mower.
Have you considered using an electric mower for your lawn?
See more about this Greenworks Mower on Amazon.com (aff. Link)