Nashville Lawn and Garden Show
Welcomes Brie Arthur as Featured Speaker
Author of The Foodscape Revolution Will Speak on March 3 & 4
Nashville, TN – The 2018 Nashville Lawn and Garden Show welcomes nationally recognized author, PBS correspondent and gardening expert Brie Arthur as its featured speaker. This year's Show is March 1-4 at The Fairgrounds Nashville.
Arthur will present "Perennial Combinations in the Foodscape Revolution" on Saturday, March 3, at 1:00 p.m. and "Foodscape Revolution Simplified" on Sunday, March 4, at 12:30 p.m.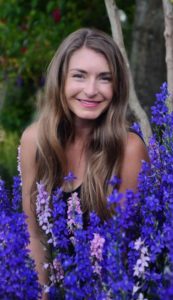 Originally from southeastern Michigan, Brie Arthur studied Landscape Design and Horticulture at Purdue University.  She was a professional plant propagator at Plant Delights Nursery and Camellia Forest Nursery before transitioning her focus to Green Industry communications through writing, public speaking, film production and consulting. As a correspondent on the PBS television show Growing A Greener World, Arthur shares practical advice from her one-acre suburban foodscape encouraging everyone to embrace the hobby and lifestyle of home gardening. She is a Garden Writers of America National Director of Region IV representing garden communicators across the southeast US.
Additional guest speakers include Jeff Poppen, the Barefoot Farmer, Carol Reese of UT Extension, Jackson, Troy Marden, host of Volunteer Gardener, Todd Breyer, landscape architect, Owen Reich, expert on Bonsai and Japanese gardens, and more.
A full list of speakers will be available online at www.nashvillelawnandgardenshow.com.  Lectures are free with each day's paid admission to the Show.
The Nashville Lawn and Garden Show is Tennessee's largest and most popular annual gardening event. In addition to the Marketplace, visitors can enjoy gardens showcasing displays from some of Middle Tennessee's top landscape and gardening companies; walk through the floral design gallery where more than 20 of the region's top floral designers display their work; and enjoy free lectures offered on a variety of home and gardening topics. This year, there will be numerous activities for children.  Proceeds from this year's Show will benefit the Nashville Tree Foundation, Twelve Apostles Eagle Scout Project, and other community horticultural programs.
For additional information, call the Nashville Lawn and Garden Show office at 615-772-6809 or visit www.nashvillelawnandgardenshow.com.