5 Days and 4 Catmints!
Last Saturday I was shopping at a nursery where I found a 'Walker's Low' Catmint (Nepeta faassinii). I've talked about the benefits of Nepeta before so it may not be a surprise that I bought one. I planted the new perennial the other day in our front sidewalk garden.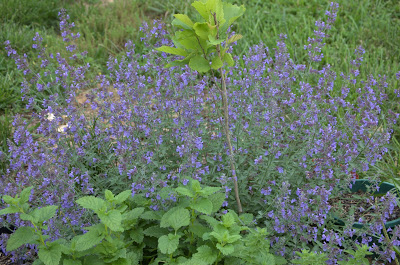 Simply brushing the leaves between your fingers releases a wonderfully minty aroma. It's a pretty plant overall although my catmint is a bit leggy at the moment. Legginess is a problem that can be taken care of easily with some periodic pruning that will encourage a bushier habit.
'Walker's Low' Catmint is named for a garden in England and not the plant's actual growth habit. This catmint will grow up to 24 inches tall and 18 inches wide.
If you have read my other posts on Growing The Home Garden you know that plant propagation is an obsession of mine so you can probably guess what I'm about to tell you…I took cuttings of my new catmint. In fact I took cuttings the same day I bought the catmint.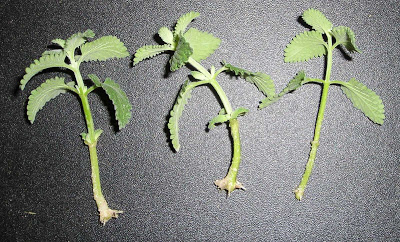 How I Took Catmint Cuttings
I made three small stem-tip cuttings, dabbed them in rooting hormone (which is not really necessary) and stuck them in my sandbox. (You're never to old to play in the sandbox right?) The sandbox I have is really just a few aluminum baking pans that I put sterilized playground sand in to use for my cuttings. You don't have to use sand for plant propagation but it does not hold diseases as soil might. However you can still root catmint cuttings very successfully with soil.
In the picture below you can see the three little catmints. Add these three successful cuttings to my original plant and now I have 4 catmint plants to put in the garden. Since catmint grows fast you can make many more cuttings to plant en mass in your garden.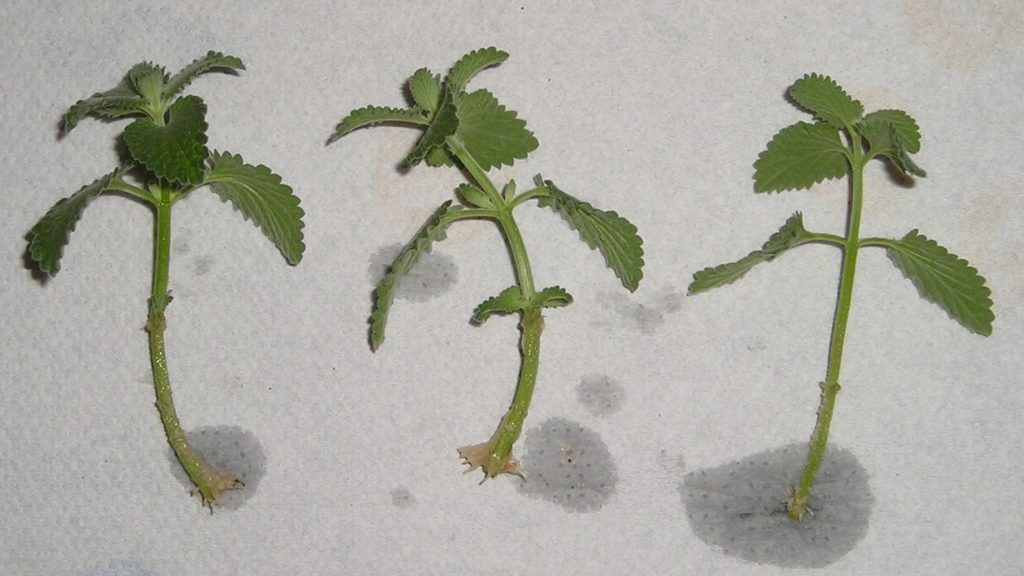 The catmint only took a few days to begin showing roots. It's a very easy to root plant and you can take a ton of cuttings from a single plant. What is really neat about that is every time to take a cutting the plant will sprout new branches from the nodes. That makes the plant more covered in blooms when it flowers and also creates more potential cutting material.
Catmint is related to catnip but does not seem to attract cats in the same manner.
How to Propagate Catmint from Cuttings
Watch this video to see how simple catmint cuttings can be to root.
How to Propagate Catmint from Cuttings
Cutting Type:
stem tip, nodal, or internodal.
Best Times to Propagate Catmint:
Spring through Summer
How to make cuttings of catmint
Follow the simple steps below and you should be able to make quite a few successful cuttings of catmint!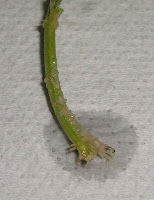 Take 3-4 inch long cuttings.
Remove all the leaves except for two to four at the top of the cutting.
Pinch the tip to encourage branching.
Dip the end in rooting hormone and place it in a rooting medium. Rooting hormone isn't necessary but will speed rooting.
Keep the cuttings moist and monitor the cutting for a week to two weeks.
Here are some great Plant Propagation resources you may want to have around!
How to Stop Catmint from Getting Leggy
If you are having trouble with your catmint getting leggy watch this short video I did on pinching back your catmint. This technique is great with other plants that have a tendency to fall open from the center too.