We had another harvest of tomatoes this week! We've been loving the sheer volume of tomatoes this summer and are sadly lamenting the end of the harvest that will be coming soon. The weather is still warm enough for the tomatoes to produce and there will probably be another crop before the frosts but the end is near!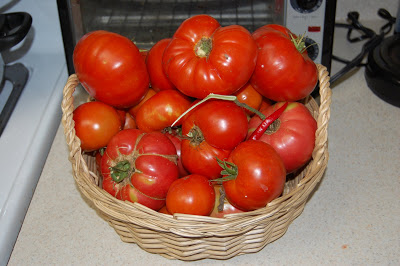 Most of this batch of tomatoes has now become sauce but a few were saved to become sandwich ornaments. Well maybe not ornaments since these tomatoes have flavor and aren't like your off-season store bought varieties that are picked green and shipped across the continent. Soon we will be going through the grieving process with a profound sense of loss for our favorite red fruits of the garden. Is it wrong to grieve the loss of fresh tomatoes? To quote a cliche "If it's wrong, I don't want to be right!"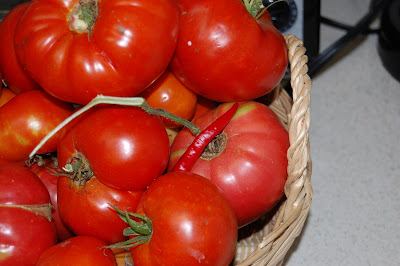 We did find a few cayenne peppers ready to be picked amongst the tomato crop. The peppers are nearing their end as well. The poor peppers, their spotlight is dominated by the yummy red wonders of the garden world.