One of the areas that I would like to improve upon in our garden is the lack of winter interest. I can look outside our windows and see lots of stark naked deciduous trees waving in the wind. If they were covered in snow we would have plenty of winter interest but here in Tennessee snowfalls of that magnitude are few and far between. Over the next several days I will talk about planning our winter garden and will end with planting a few things into it! Yes you can still plant trees and shrubs this time of year, in fact winter dormancy is an excellent time to plant them.
So what makes a winter garden? To me a winter garden has something unique to look at when the other plants are sleeping. Cool bark on trees, colored berries, interesting branching patterns, evergreen foliage, flowers and seed heads that sway in the wind are all things that come to mind when I think of a winter garden.
Salix alba 'Britzensis'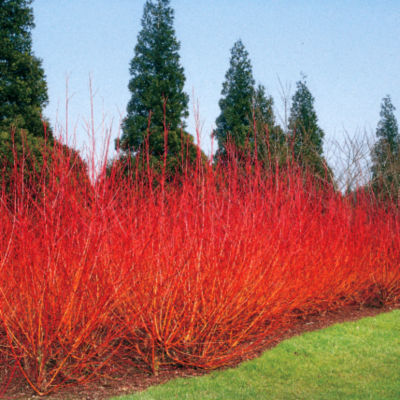 Birch trees are a favorite tree of mine for their bark and their foliage but there are many other choices in trees and shrubs. Could I talk about cool bark without talking about red twig dogwoods? The bright red stems are a perfect choice for winter color. There are also yellow twig dogwoods that have yellow tinted stems that look great en mass. A Coral Bark willow (Salix alba 'Britzensis') is another good choice for red stemmed bark. When I think of good bark I would be remiss if I didn't mention the crape myrtles. These southern delights have fantastic peeling bark on their trunks and branches if they are allowed to grow into the tree form. The list of interesting bark is very extensive to go through in one post.
Colored berries are good for the eye as well as the birds. One of the reasons I garden is to attract wildlife. The deer come of their own accord (unfortunately) but the birds need motivation and providing garden plants that give them nourishment in the winter is a favor they will likely return with their presence. A family favorite the orange berry bush, better known as Firethorn (Pyracanthus augustifolia), is a great choice. The birds love the berries and the thorns provide them with a protected place to build their nests safely tucked away from any cat that might be hanging around. Many berry bearing plants like pyracantha are evergreen and do double duty in the winter. Hollies fit the bill. Their year round green color is decorated in the winter with red berries that birds really enjoy. One favorite holly of mine that I'm ashamed to admit I don't have yet is the Winterberry Holly (Ilex verticulata). It's actually deciduous but that just enhances its appeal. When the leaves drop off and reveal the abundance of bright red berries you end up with a spectacular winter show.
Harry Lauder's Walking Stick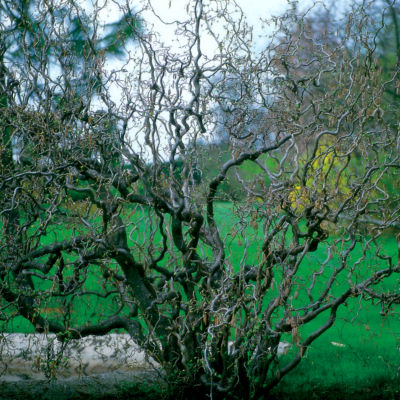 Interesting branching patterns can be found on many trees and shrubs. The corkscrew willows do exactly what their name entails and twist their limbs into various contorted formations. Speaking of contortions, what about the Contorted Filbert (Corylus avellana), also known as 'Harry Lauder's Walking Stick'. This small tree grows up to 15 feet tall and is one of the most twisted trees you will ever see. Vines also have interesting branching patterns and once they lose their leaves all is revealed.
Evergreen trees and shrubs abound. This list ranges from tall pines to dwarf conifers, arborvitae to evergreen azaleas. I'm partial to Bird's Nest spruces and the dwarf cherry laurels ('Otto Luyken' or Schip are both also called English laurels) but there are so many great plants to choose from in the evergreen category. Even evergreen herbs like Rosemary can add winter interest. This time of year you will see quite a few rosemary plants trimmed up into little Christmas trees but you can trim them up into all sorts of topiaries.
Some plants even flower in the cold winter months. Heaths burst out in an explosion of little tiny blossoms during the winter months. I've added at least 5 Mediterranean White Heathers to various areas of our garden because of the flowers and evergreen foliage they present. Witch hazels are another good plant for flowers in the colder months. The streamer like blossoms that appear in the later winter and early spring are also very fragrant.
Seed heads might not be the most thought of element of a winter garden but really have a great amount of winter interest. Ornamental grasses are probably best known for their seed heads that flutter about like feathers in the wind, but what about other perennials? The seed heads of echinacea (coneflowers) are pretty in the winter as are the round seed globes left by gaillardia in the fall. There are all kinds of options out there.
I've given you a small glimpse into my mind's planning process for our winter garden. (Hopefully it didn't scare you any!) Tomorrow I'll highlight the three kinds of plants with which I'll begin our winter garden. As all my garden areas have the winter garden will expand over time.