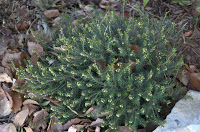 Not many plants bloom in the dead of winter but you can count on Mediterranean White Heath (Erica x darleyensis) to put on a subtle show. It blooms with tiny little snow colored blossoms that (at least in my Tennessee garden) emerge during January and February. I have five of these little winter gems located throughout our front garden and once they begin to bloom they last for months. All but one of them was a stressed out rescue plant from one of the big box stores. They survived rough treatment at the store and drought conditions over the summer and so far seem to be doing very well this winter.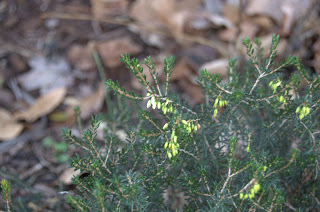 Mediterranean White Heath would be a great addition to a winter garden as a ground cover planted en mass. It's also a prime candidate for planting in rock gardens. As for propagating Erica the easiest way is with mound layering. Simply cover the base of the plant with soil and let the roots form naturally over a period of a couple months. Check the plant for roots by gently pulling back the soil. If there are roots snip the cutting and pot up your new heath. If no roots have formed push the soil back around the base of the plant and wait a couple more weeks. Cuttings can also be taken but are more difficult to root than mounding.
The Details: 'Mediterranean White' Heath is hardy in zones 6-8 and grows into an approximately 1-2 ft. high shrub with a roughly equal width.