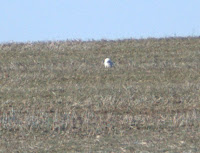 We've had an unusual visitor here in Spring Hill, TN. A snowy owl (Bubo scandiacus) flew in with the arctic air that's been hanging over our state. I had heard rumors of the visiting bird through the Nashville news stations (OK that's a little more than a rumor) and set out today to investigate. My two girls and their grandma all piled in the car and drove over to the GM plant which is where the owl was said to be spending his vacation. The first trip out to the field revealed no sign of the mysterious migrating bird. After lunch we drove by once again and found our feathered friend frolicking in the field. The problem was that he was so far away that all my attempts at pictures failed to produce a great shot. My best pictures show only the little white mound of feathers. My 200 mm lens just wasn't able to capture the owl as he was just too far away.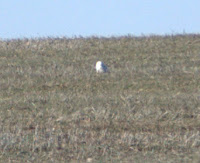 These owls are also known as Arctic Owls and Great White Owls and aren't usually found in our area. The last reported sighting of a snowy owl in TN was in 1961. They are predators of small rodents and other birds and are native to areas of 60 degrees latitude and further north.
If the bird is still around this weekend I may try to take a few more shots before it heads back north. It's made quite a stir around the southern birding community as I've seen posts from people in Georgia and Alabama who have come to see the Great White Owl. If you have pictures of the Owl that you would like show everyone, email me it to me to post up here on the blog.
Related Posts:
A Tennessee Snowy Owl Story