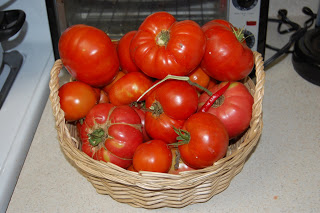 On Friday my daughter and I planted another set of seeds. These were all for the vegetable garden and they were all even in the same family, nightshade. We planted a several varieties of tomatoes and peppers in our peat pot system. We're still waiting on a few more seeds to come in through the mail. April 15 is the normal last frost date here in TN and we're starting these seedlings about 6 weeks early. The squash, cucumbers, and other vegetables I plant directly in the ground while I start the tomatoes and peppers early and should be ready to go in ground right around mid April.
Here's what we started:
Tomato Varieties

Pepper Varieties

Yellow Pear (heirloom) NIMG
Ornamental Peppers NIMG
Brandywine (heirloom) VY
California Wonder Y
Better Boy Y
Cardinal Hybrid VY
Supersweet 100 VY
Big Dipper Y
Beefmaster Y
Cayenne Y, also HOT
Roma VFN Y
Viva Italia Roma VY
Big Boy Hybrid VY
Codes: NIMG – New in my garden, VY – Very Yummy, Y – Yummy, No other code is necessary as anything less than yummy doesn't deserve to be planted!
I'll tell you about the other seeds as they arrive!