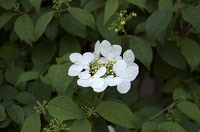 Today while at my in-law's house I made a few cuttings from one of their viburnums. I'm not entirely positive about the variety but I believe it is a Viburnum plicatum var. tomentosum. Viburnums are beautiful flowering shrubs in the spring that have very few pest and disease problems. The fall color can be good too so you get a plant with three seasons of interest.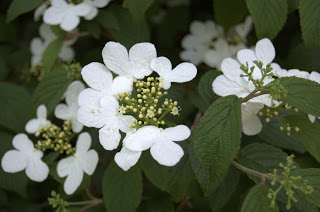 I took the cuttings from greenwood that had two nodes on each stem. Then I did the standard rooting hormone treatment and put them in a window inside our house. (My wife just loves this time of year!) Hopefully in 4-6 weeks I'll have a few viburnum cuttings to plant outside. I'm a big fan of viburnums so any opportunity to add another one to the garden inventory is always taken! Who wouldn't want to see these flowers every spring?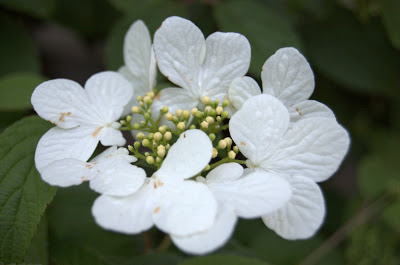 If you are interested in learning more about Viburnums, this book by Michael Dirr is an excellent resource!