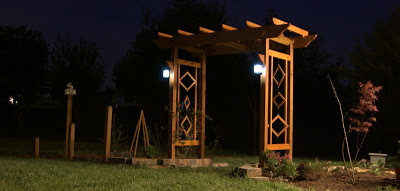 Today is the day. The day when the challenge is evaluated by friends, family, and fellow bloggers through
online voting at BHG.com
and I need your help to win. The projects have been done and everyone has done a fantastic job by bringing us slick porch remodels, an elegant potting bench, a cool barbecue cart, and my personal favorite:
a garden arbor
. (I bet you knew which one was my favorite!) All you have to do to help this gardener is to vote once a day for the length of the contest. In the end you might help me to win the $5000.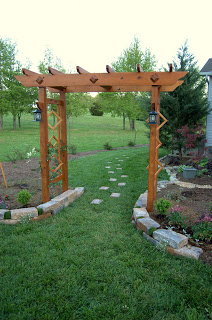 I bet you're wondering "what would Dave do with $5000?" I can think of quite a few projects that a little influx of green would take care of, starting with my garden fence. Right now our garden is just surrounded by a 3′ tall coated wire fence to keep the rabbits out. The fence does its job fine but isn't much to look at. A classic picket fence is just what the garden needs.
The one project that keeps coming to the forefront of all the other ideas rattling around in my brain is the ultimate gardener's shed! A place to store all the tools of the trade and then some. Complete with a greenhouse side, front porch, and maybe even a living roof! Those living roofs fascinate me! Not only are they great for the environment by reducing water runoff but they look pretty darn cool! In my mind I have a plan that would harvest the leftover rainwater inside the shed for use in the greenhouse portion. Not only that, but we might actually get to park our cars in our current garden shed…the garage. That would really make my wife happy!
Of course this is all just dreaming and speculating right now. I would love to win the challenge but the odds are against me. Most of the other bloggers in the Challenge have a greater audience than I do, or at least they have more commenters. There could be quite a few silent readers out there who tend to be like me, read everything but keep quiet. Probably the craziest thing I ever did was start this blog with my introverted personality, but it was also probably one of the best things I've done. This blog has brought me so many great experiences and I've met so many great gardeners because of it.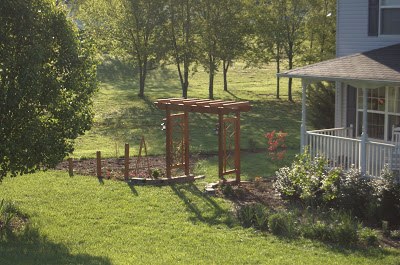 If you can, hop onto the 48 Hour Challenge Website everyday and send me a vote. Whether I win or not the Challenge has been a great experience and I want to thank Better Homes & Gardens and The Home Depot for the opportunity to participate. I'll be talking about the arbor in greater detail in the next couple of weeks. I'm really pleased with the result and I hope you believe it's worthy of your support!
Edit: If you go to the BHG.com site and can't find the voting area just check back later in the day. It should be up soon. This edit will self-destruct after voting goes live!