This year I'm really excited about our watermelons. I picked out the 'Moon and Stars' variety which not only is reported to be an excellent tasting variety but looks really neat too. 'Moon and Stars' are an heirloom variety that acquire a mottled coloring on the rind surfaces that resemble the night time sky! The nighttime sky also appears on its foliage which is great because I forgot where I planted my cantaloupe and watermelons. Once the foliage appeared on my watermelons I knew the answer. 'Moon and Stars' watermelon are somewhere in the neighborhood of 25-30 pounds.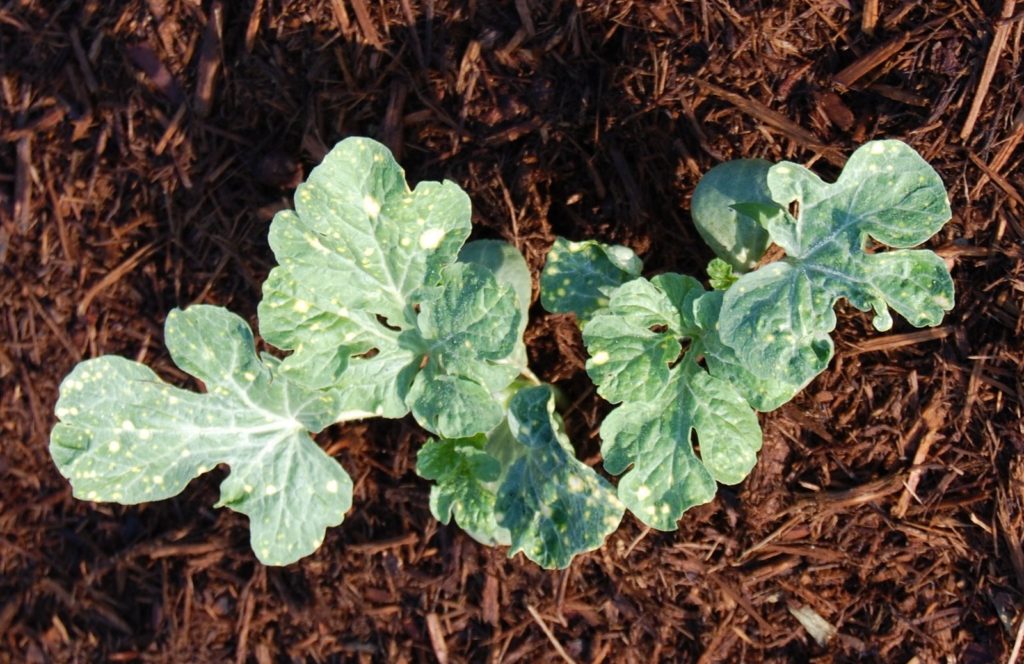 Watermelons need full sun and plenty of water to produce well. I planted these seeds directly in the ground in mounds rather than in our raised beds. Watermelons tend to stretch out a bit so I wanted to give it room to roam. Our watermelon crop last year was a sad little crop and I'm aiming much larger this year. Very soon I'll get my irrigation setup in the garden and be ready to go, or grow as the case may be!
Tips for Growing Watermelon
Sowing Watermelon Seeds
Watermelons are best planted from seed. You can buy transplants but they are fast growing and a pack of seeds is about the same price as a single plant. Plant watermelon seeds in small mounds with 3 to 4 seeds in each.
Watermelon plants will spread out quite a bit so allow a lot of space. You can plant watermelon about 2 ft apart from each other but allow 5 feet of space for the spread of the vines.
Good Companion Plants for Watermelon
Beans, Corn, radishes, marigolds, nasturtiums, oregano, garlic, chives, onions (alliums)
Common Watermelon Pest Insects
Aphids, Thrips, Flea Beetles, Spider Mites, Cabbage Loopers, Armyworms, Grasshoppers, Leafminers, Cucumber Beetles.
How to Fertilize Watermelon Plants
After planting (or germination) a nitrogen based organic fertilizer can be applied to encourage leaf growth. Then convert a when flowers begin to form into an organic fertilizer that is either more balanced or has higher phosphorus and potassium numbers.
When to Harvest Watermelon?
Thump the watermelon to see if it has a hollow sound and watch for the tendrils to turn brown. This will be about 75 to 80 days after germination in the garden.
Related Posts:
My Vegetable Garden Layout (Raised Beds)
A New Vegetable Garden Layout