Lately I've been thinking about my fall vegetable planting and since the time is upon us I thought I would put together a diagram of how I might plant one of my 4'x8′ raised beds. While this vegetable garden layout is not necessarily drawn to scale with regard to the number of plants possible it should show what kind of plants go well together in the fall garden. The plants in this layout are generally considered good companion plants and since pests will be fewer in the fall they shouldn't have many problems.
4×8 Vegetable Garden Layout for Raised Beds in Fall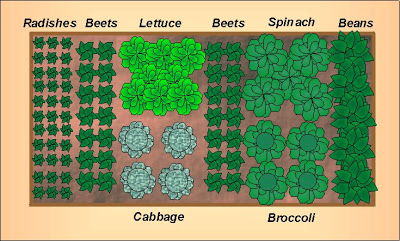 This plan includes: radishes, beets, lettuce, spinach, cabbage, broccoli, and bush beans.
We aren't big broccoli eaters here (my wife isn't too fond of it!) so I'll just settle for a few plants. I love broccoli in Fettuccine Alfredo! I hope to try pickling some beets this fall and the spinach should last beyond the first freeze once it is established.
Cabbage loopers decimated my spring crop so I'm hoping to squeeze in a couple cabbage for some fall slaw. With any luck we'll still be producing a good amount of tomatoes to put together a great garden salad with the radishes, lettuce, spinach, and maybe a fall crop of cucumbers. 
Other Garden Layout Ideas: