It's that planning time of the year still for most plants and I want to mention something I think is important, herbs! Herbs go great in the vegetable garden mixed in with other plants like tomatoes and peppers. As companion plants go herbs are said to prevent various insects from effecting your plants. (Darla had an interesting post about companion plants earlier in the week you should read). I tend to blend my herbs and vegetables relatively haphazardly which may limit their effectiveness in companion planting.
Currently I have three herbs alive and well in the vegetable garden: cilantro, oregano, and parsley.
Oregano
Oregano is a perennial and it shouldn't be a surprise that it came through the cold winter just fine. I like to dry the leaves for use in sauces over the winter but we use it fresh throughout the year. Rumor has it that oregano is a good companion plant for cabbages and helps to repel cabbage loopers – I despise those things!
Parsley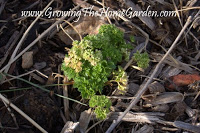 Parsley in the Vegetable Garden
Parsley is a biennial and likes to grow nice fluffy foliage the first year then produce seed the second year. Once the seed comes the plant is done for! Parsley is a good companion plant for alliums (onions, chives etc.), asparagus, tomato, and carrots.
Cilantro/Coriander
Cilantro in the Vegetable Garden
Of course the cilantro is one of our most useful herbs. It's also called coriander but I think cilantro flows better. I enjoy making guacamole, fajitas, and Tex-Mex kinds of dishes and cilantro is great for those foods. Cilantro is a cool season herb that excels this time of year. Once the warm weather comes it will start to bolt and will send up flower stalks. Once this happens I let it go to seed then leave it alone until the seed has formed. Once the stalks have dried I'll either collect the seeds or sprinkle them right away in another vegetable garden bed. The seeds will germinate in the fall and you'll be able to harvest the leaves late into the winter.
Other Herbs I'll Grow in the Vegetable Garden:
Basil – I already have basil seed started but I'll sprinkle basil seed in many places. It goes great with tomatoes.
Thyme – Can you ever have enough time? I'll direct sow these seeds too.
Sage – I already have this herb growing in some ornamental beds but this year I'll propagate a few to put around the outside of the garden.
Herbs can play an important role in repelling animals like rabbits since the scent of the herbs is not necessary something they enjoy. Too bad, they just don't know what they are missing!