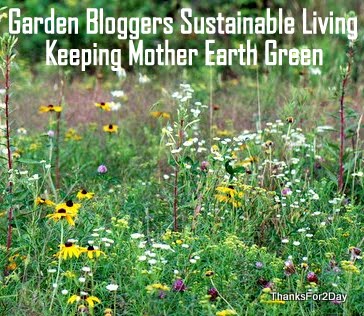 Jan at Thanks For Today is sponsoring a meme in support of Earth Day (April 22, 2010). I have to admit I've had trouble with this. It's not that I have any problem with Earth Day or writing a post full of great tips for saving the world but when coming from a personal perspective to share something new my mind is drawing a blank. There are a myriad of issues facing us in this day and time and not one of them is easy to solve on an individual basis.
The earth is our home. We don't have anywhere else to go and it makes sense to keep it clean, safe, habitable, and beautiful for generations to come. I want my children to be good stewards of the earth and so I bring them outdoors to enjoy it everyday. I think the most important thing for them is to experience every good thing the world gives us and they will see how important the world is to them.
Since I'm having trouble coming up with something new to add to what I already do here's a list of the things I do that hopefully support our planet that supports us so well.
I garden as organically as possible. I always say as possible because I like the qualifier just in case but to date my garden is completely organic – as far as I know (yep that's another qualifier ;)). I don't put chemical fertilizers or insecticidal sprays on it anywhere. It keeps the garden safe for my children.
I grow as much food as possible during the growing season. My garden contains vegetables, herbs and fruits that not only reduce the amount of shipping (trucks/transportation) required for grocery stores but also saves us money. You can talk all you want to about saving the earth but when you mention that it also saves you money that really catches people's attention.
I've been adding more edibles to the landscape. This year I added two blueberry bushes and two apple trees (see also #5).
I preserve food now for the winter months. One of my favorite fables is the story of the ant and the grasshopper. The ant saves food for the winter while the grasshopper wastes time playing and not planning ahead. When winter comes the grasshopper is without food and the ants have plenty. Last year was the first year of anthood for us and we plan to do even more this year!
I plant trees every year. This year we added a new 'Constellation' dogwood and two apple trees (Gala and Fuji) (see also #3).
I plant plants that do well in our climate with needing too much extra water or care. Sometimes this means natives sometimes there are other plants that fit the bill.
We reuse plastic storage bags after we wash them which reduces out waste a little.
I reuse plastic containers for plant propagation and seed starting. I really like the little plastic containers that mushrooms come in for propagating plants. Yogurt containers work well too!
I use proper mowing techniques which keeps a healthier lawn and reduces the need for fertilizers and herbicides.
I installed two rain garden areas to help keep the moisture in the ground. Rain gardens help to prevent chemicals from our streets and drainage areas from reaching our lakes and streams. I also volunteered to help plant a rain garden in one of our community parks.
There are more things that I do but I think 10 is enough to talk about. What do you do that helps improve our world? Don't forget to visit Jan and see what other folks have written!