Recently I started a few nasturtium seeds as a part of the Grow Project hosted by Mr. Brownthumb. Renee's Seeds offered to send seeds for several volunteer garden bloggers to try. Each month throughout the season I'll update you on the progress of the nasturtium seeds as they grow.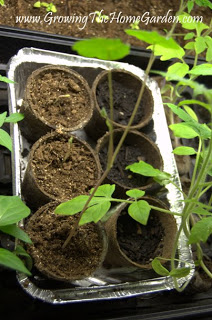 Seed Starting Mix on left, Potting Mix on the right
Today's update is filled with mixed results. When I started the seeds I decided to experiment with seed starting medium. I planted six seeds three of which were in a commercial seed starting mix (peat, vermiculite etc.) and the other three were in a commercial potting mix. Both sets of seeds were put in peat pots for easy planting later in the garden. I hope to plant a few directly in the vegetable garden as a companion planting option once the frosts have past.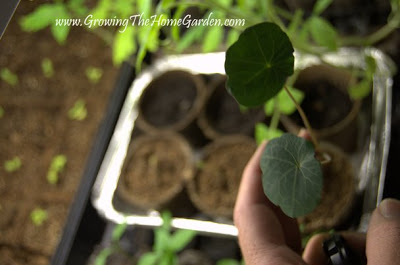 Nasturtium Seedling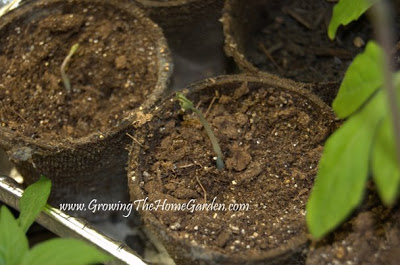 Nasturtium sprout
The results find definite favor with the seed starting mix. All three of the nasturtiums have germinated in the seed starting mix while none have emerged from the potting mix. Both sets of pots received the same water and the same treatment in the same location. For watering I put each of the pots in a foil carryout container and bottom watered after putting just a little water directly into the pots. I've kept them in the same location as my tomato plantings and under lights. Nasturtiums don't need light to germinate and in fact need planted about an 1/2 an inch to an inch deep. As I mention before, when all danger of frost is past I'll direct sow some out in the garden and pray that the rabbits don't find them! That's what happened to the nasturtiums I planted last year.Where's Elmer Fudd when you need him?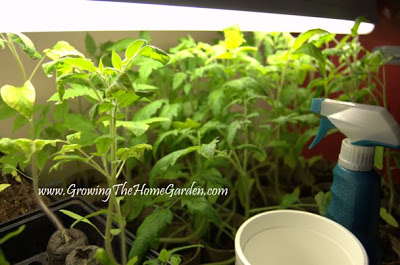 Tomato Plants
Companion Planting
As a companion plant nasturtiums are said to deter squash bugs (I needed them last year!) and a few other insects in the vegetable garden. They can also be used as a trap crop as reported by Forest Garden Girl. I'll be planting a few of the seeds near the squash plants in my raised beds to help prevent those squash bugs. Radishes are said to help against the squash vine borer but I can't verify that yet – needless to say radishes, nasturtiums and squash will make for an interesting planting combination this year!
I'm growing Nasturtium "Spitfire" for the GROW project. Thanks, to Renee's Garden for the seeds.