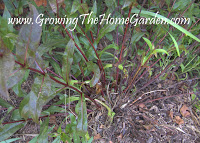 I've written before about propagating Husker's Red Penstemon (Penstemon digitalis) but thanks to a garden club friend of mine I learned a new method to propagate them. She was talking to Rita Randolph of Randolph Greenhouses who passed on this little trick that I'm about to share with you. It is as easy as it gets!
Here's How to Propagate Husker's Red Penstemon the easy way!
First go out to your clump of Husker's Red after it has flowered and identify some stems that might be a little loose on top of the clump. Look to see if there are some small leaves beginning to regrow from the base of the clump and select a couple of the stems next to them.
Firmly grasp a stem of the penstemon and give it a gentle pull. A small amount of roots should easily pull away with the long stem.
Then take the roots and stem to plant it into a pot or another location and clip off the excess stem above the first couple leaves. You don't need the whole stem anymore just the roots and a few leaves. Leaving too many leaves will make the roots have to work harder to sustain the plant when you just want it to work on making more roots.
Now you're done!
Don't forget to water it routinely until the root system grows strong enough to sustain itself. This is a really easy way to divide the Husker's Red penstemon!